We can successfully remove links from Rulings.law.
It doesn't matter if your court case is sealed or unsealed, we can remove it for an affordable price.
When you reach out using our contact form, please include the link you want deleted.
How Rulings.Law Works
Launched in 2018, Rulings.law is one of the newest competitors in the legal records space.
As opposed to other court record websites that earn revenue using a subscription based-model, Rulings.law earns money solely from advertising.
It's an interesting model and the aim is to continue to provide a 100% free and searchable database of legal records.
An interesting feature of the site is it's database of judges, with alphabetized search capability right on the home page.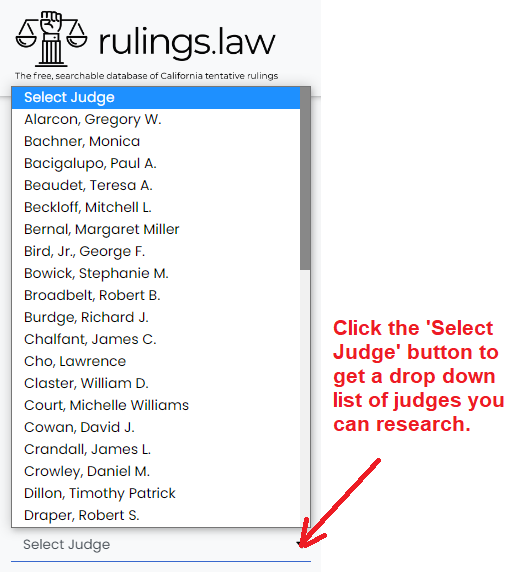 This allows for convenient access to judge profiles including career highlights, books published, awards, presentations and links to all of their rulings.
It's a nice way for attorneys to get insights into the judge they're about to argue a case in front of.
Sadly, prior to February 2023, the site suffered a breach in it's database and all records were deleted.
The site is slowly being rebuilt to be "better than…ever" according to it's home page.
At this time, only Los Angeles and Orange County records are available.
How Rulings.Law Affects Your Personal Reputation
Let's say you desclared bankruptcy 15 years ago.
The case is closed; it's part of your past.
Since then, you've cleared your outstanding debts and built a new business from scratch.
You're looking to expand that business and need capital to do so.
But when people do a background check on you using Google, Bing, or DuckDuckGo, up comes the old bankruptcy filing link on the Rulings.law website.
This causes hesitation.
Potential creditors or partners think, "Hmm, if he/she filed bankruptcy once, maybe they will do it again. They might be a bigger risk than I want right now."
The search engines never forget.
And even though you've moved on, your past is still holding you back.
This is how your past is documented online and can still hurt your ability to pave a new way forward.
We can help you gain control over your online reputation by deleting the record permanently on this site and many other court record websites listed on Google.
How To Delete A Link On Rulings.Law
How to delete a link on Rulings.law?
Contact AffordableReputationManagement using the form on this page
Include the exact link you want removed
Receive a guaranteed quote within 48 hours
If you move forward, your link will be gone within a week
Summary
Court cases from your past no longer have to hurt your future.
Rulings.law removal is fast and affordable.
Since we provide a guarantee and long term warranty, you won't have to worry about a link on the site to come back and bite you later.
Contact us for a free consultation and find out how much it costs to delete the link.