Here's our complete guide to Reputation Management for Small Businesses.
This is do-it-yourself advice for those small business owners who want to proactively protect their online reputation or for those who may have negative press or bad reviews they'd like to improve upon.
Of course, we provide affordable online reputation management for small businesses if you'd like us to handle the work for you. Feel free to reach out for a consult.
Strategies For Reputation Management for Small Businesses
1 – Determine your keyword
Your keyword is usually your business name. (See below for determining whether to use your personal name or business name.) I recommend focusing on the most commonly used version of your business.
For example, if you're legal business name is Houston Garage Doors LLC, but you're known as Garage Doors of Houston, I'd recommend using the latter, especially if this is the name you're using on your website and social media.
If you're not sure, one way to check is to see which version of your business name has more pages on Google.
Visit Google and search for the two versions, using quotes around the names. Select whichever one has more results, according to Google.
First, check "houston garage doors llc" – you can see it has 6 results.

Now, check "garage doors of houston" – you can see it has 3,030 results.

In this case, I would choose Garage Doors of Houston as my keyword, as there's much more content with this brand online.
Personal Name vs. Business Name?
Here's another example, as many small business owners face a dual challenge because you have two brands to protect:
Your personal name
Your business name
In fact, if your personal name is completely different than your business name, you're probably going to see two different sets of search results when you Google each of these terms.
Check out the comparison below between the Google search results for "Shawn Dunigan" and "ABC Electric," the company he owns.
(Please note, I pulled this example randomly, I don't know Shawn or his company, nor have we done any work together. It's merely for demonstration).
As you can see, the "Shawn Dunigan" listings on the left indicate Google thinks we are trying to find a person and thus the top 3 search results are LinkedIn and Facebook. Only the BBB and OreColNECA.org listings are related to the business itself.
The "ABC Electric" search results on the right are 100% about the business and includes the business website, internet business directories, the business's Facebook page and it's Google Business listing at the far right.
Not a single link is shared between the page 1 search results for the two terms.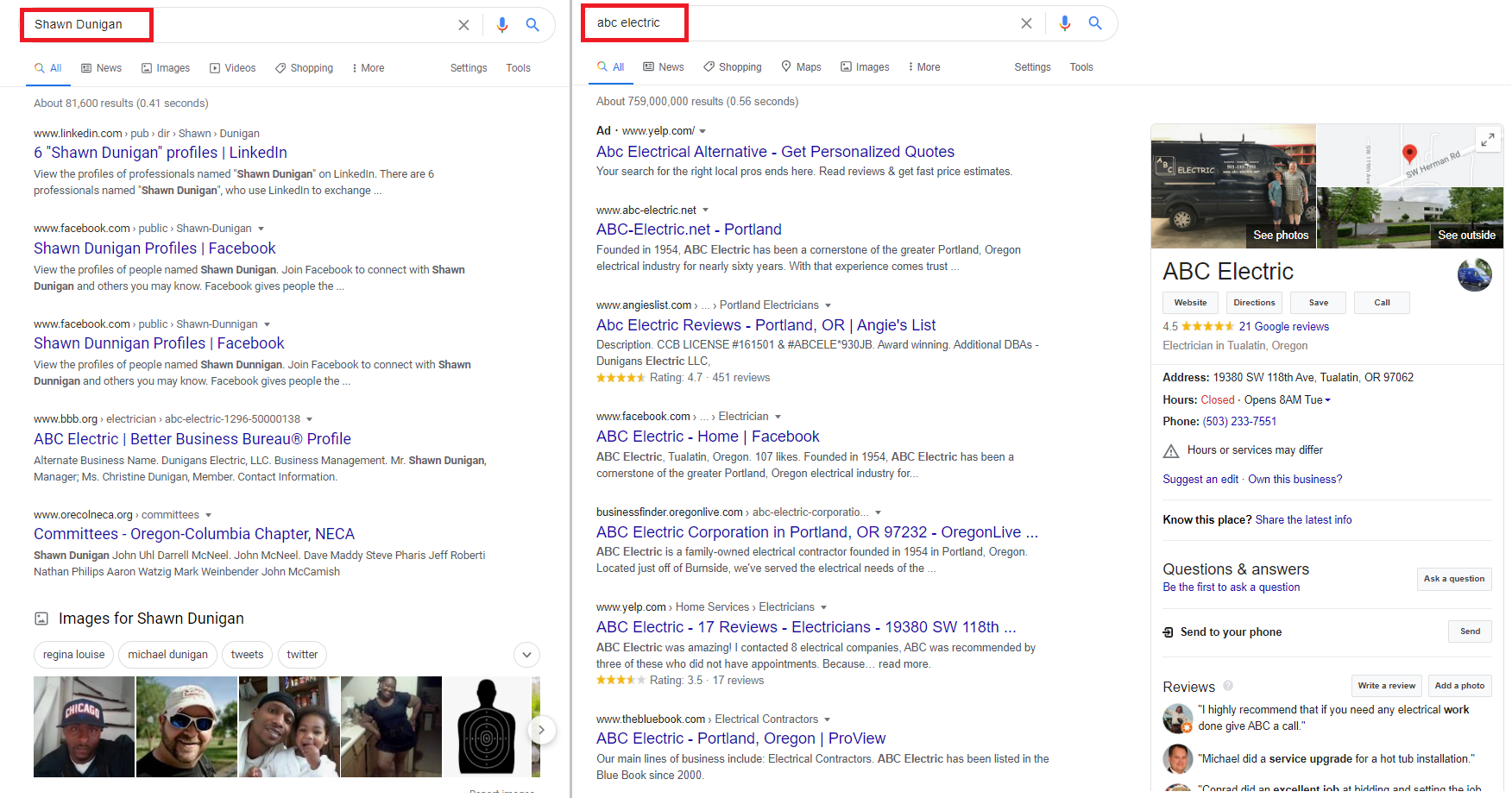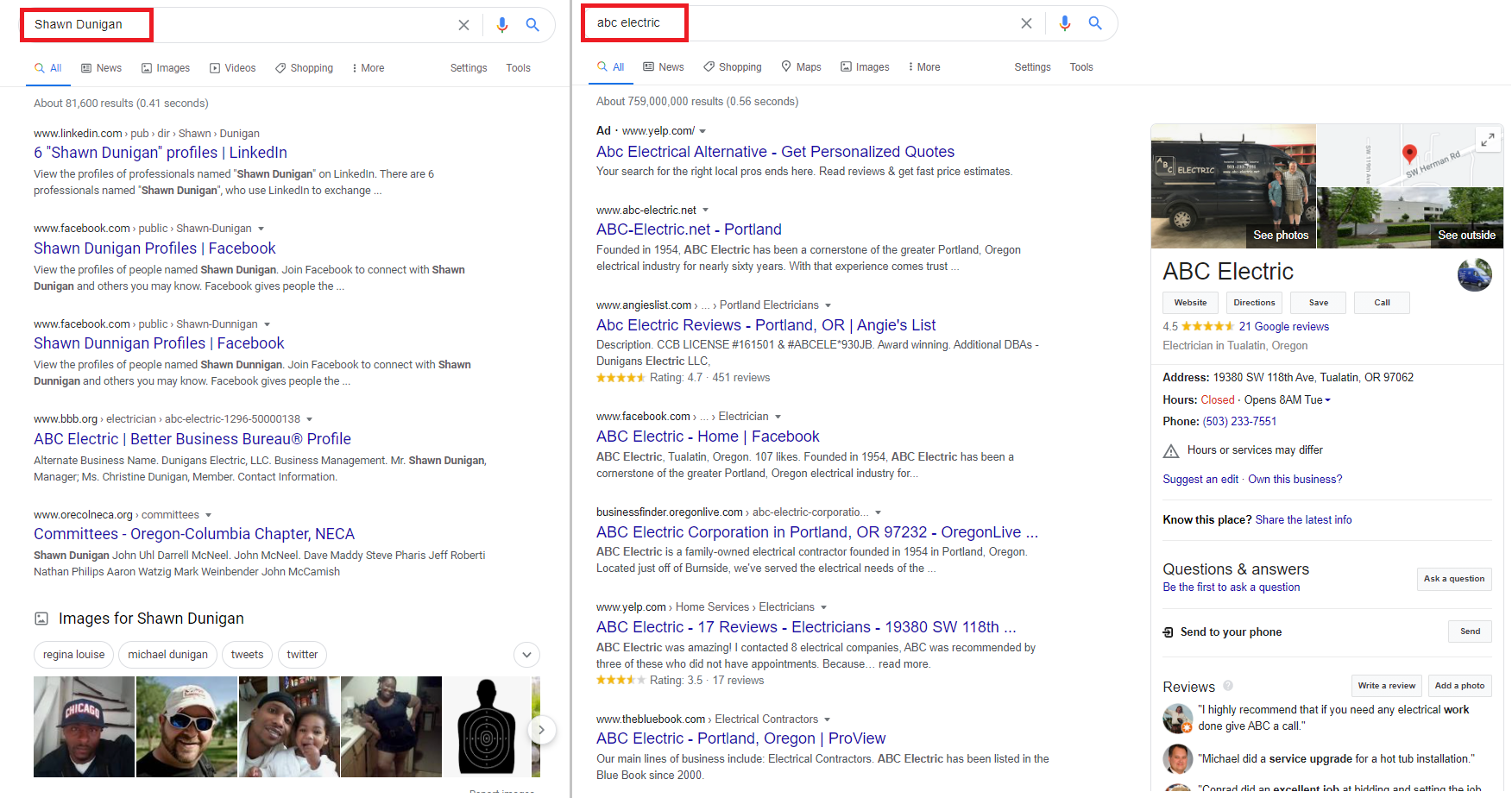 So, if you are a small business owner, you'll want to regularly check both of your brands to see how the search results look.
You might have negative links that appear for your personal name, but not for your business name, and vice versa.
In this case, you'll only need one online reputation management campaign targeted fully at improving the look of that brand on the internet.
However, in a worst case scenario, a negative article will appear on page 1 of Google for BOTH your personal name AND your business name.
In this case, you'll need two campaigns, one tailored to your personal name and one tailored to your business name. We've got strategies that can overlap and help both brands, but in most cases if your personal name and business name are distinctly different like the example above, you'll need two separate campaigns.
Now, let's take a look at the different strategies that can make an impact on each of your brands.
You can employee these strategies yourself or hire us and we'll do all of the work for you!
2- Make a strong website (with sitelinks)
Now that you know the brand name you want to focus on, Google it.
Your website should be the very first thing that appears. If not, I'd recommend contacting us to get a quote on a new and improved website that will rank better for your business name.
Ideally, you will see sitelinks like the ones below.
Sitelinks are the most important pages on your website, according to Google. Google's algorithm will analyze your site's structure and determine which pages to show as sitelinks. If you don't have any sitelinks showing, then follow these instructions to give yourself the best chance of having sitelinks appear.
Sitelinks are important because they take up valuable real estate at the top of page 1 of Google, thus pushing anything negative content further down the page.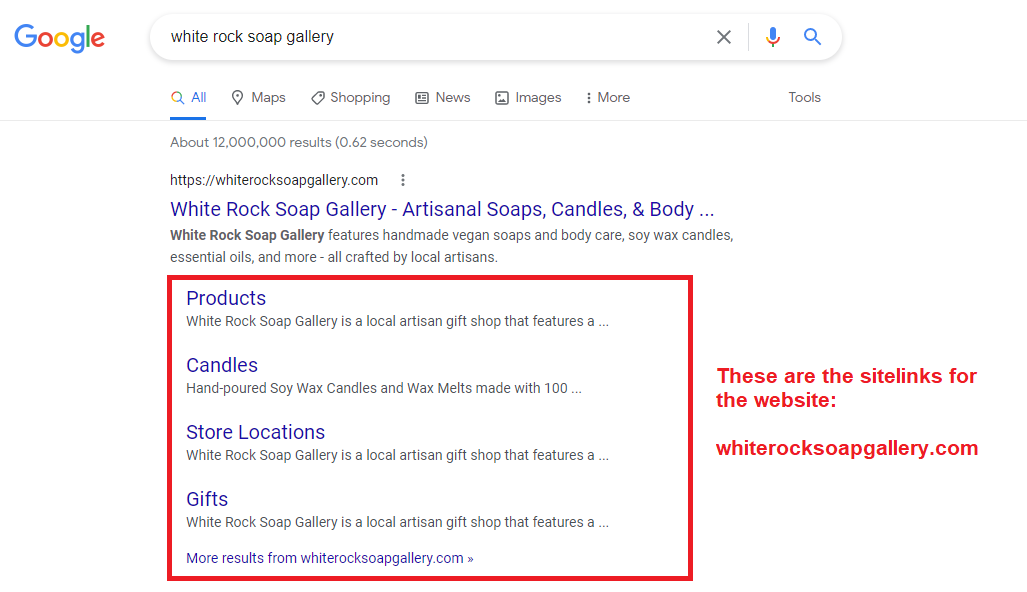 3 – Major social media
Google most any business and you're sure to see social media sites appearing on page 1.
That's because social media sites have high authority and trust with Google.
I recommend claiming your small business profile on these major social media platforms:
Facebook
LinkedIn
Instagram
Twitter
Youtube
Make sure that your business name (from step 1 above) exactly matches the name you give to each social media business profile. Then place a link on your website to each social media link and vice versa.

4 – Online business directories
There are thousands of online business directories where your can list your small business. You're probably already listed in a lot of them because many directories "scrape" the internet and automatically add you.
Some directories will allow you to claim your page for free and add things like business hours, description, website, and more. Take advantage of this at every opportunity.
To prioritize which directories to focus on, I recommend you Google your business and 2-3 of your competitors. Make a list of all of the business directories you see on page 1 and 2 and start with those. They'll have the best chance to rank.
Some common business directories that rank well include:
BONUS: If you're an active member of any chambers of commerce or specialized business directories, make sure you have a full profile listing of your business on those sites, as they usually carry high domain authority and rank well.
Getting listed in quality business directories can be overwhelming because there are so many. Just take your time and try to knock out 1-2 per week.
5 – Niche small business directories
Claim and optimize niche internet business directories – contractors/trades usually see things like Angie's List and HomeAdvisor. Dentists, physicians and other medical professionals will want to claim and optimize Healthgrades, Vitals, Zocdoc, and WebMD, and others.
Lawyers can participate for free in niche directories like Avvo, SuperLawyers, FindLaw, Martindale and others.
A good way to find niche directories is search for your business and go 5 pages deep. Then search for a few of your competitors and look at the first 5 pages of results. Make sure you're listed in every niche directory you see in the first 5 pages. Chances are good that 1 or 2 of these will move up to page one and bump any negative stuff down a bit.
6 – Employer directories
Get listed on employer feedback sites. Glassdoor and Indeed are two of the best known employer sites and are very strong. There's a good chance at least one of them will appear on page one for you.
Advanced Strategies for Reputation Management for Small Businesses

6 – Business profile on advertiser website
Getting a small business profile on websites of vendors you spend money with can be a great way to have that page in Google search results.
The reason is most sites, especially radio, newspaper, television have been around a long time and are respected by Google. So, pages on sites like these will rank well.
Below is a page 1 listing for Zenaptic Chiropractic.
View a more extensive guide at: How To Leverage Your Vendors To Improve Your Online Reputation
There are some fantastic interview websites and small business owner podcasts out there. All you have to do is reach out. Many of them are free or charge a nominal fee to get published.
Here are a few to get you started:
IdeaMensch
Inspirery
DotComMagazine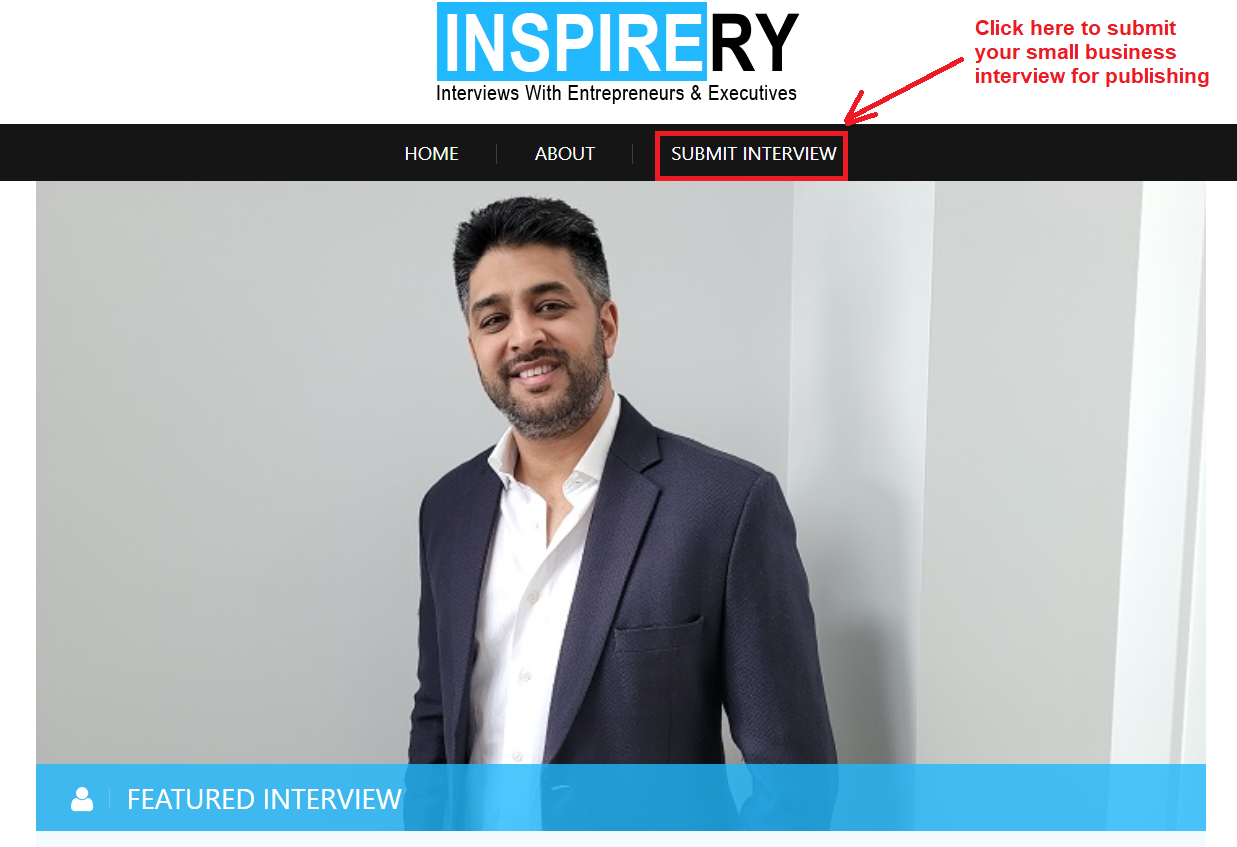 These sites and others feature interviews with small business owners and companies who have an interesting story to tell.
For podcasts, check out this list of 20 small business podcasts. When these podcasts get transcribed and added to a website, they can rank extremely well in Google and really help you build your online presence.

8 – Press releases
If you've tried in vein to pitch your story to local media only to fall flat, there is an easier option available: paid press release distribution.
Here's how it works. There are several companies who've built a distribution network of hundreds of websites. When you pay to have your press release published, they will distribute your news to their network, many of whom will pick up your story and publish it on their website.
Look at the results of this Google search for paid press release distribution services.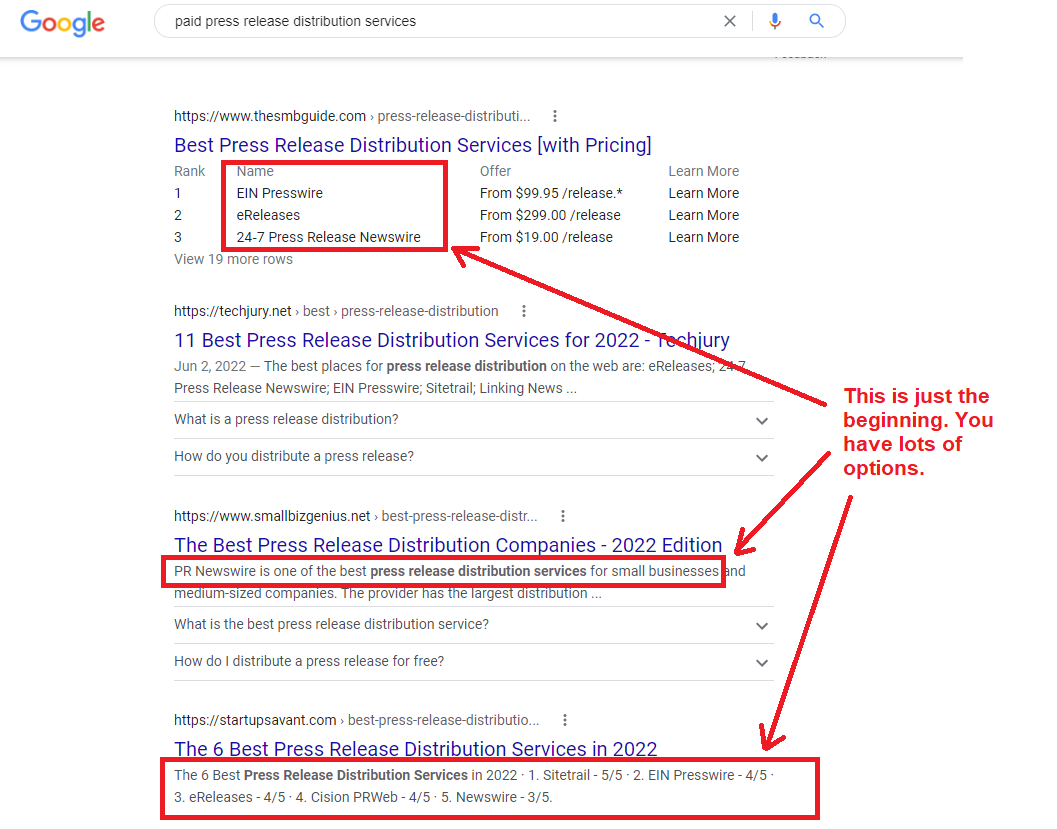 Usually, these services will have one main website, such as EINPressWire.com or PRNewsWire.com, where your press release gets guaranteed publishing. These sites are strong and publishing to them can result in an easy page 1 listing for your business.
Make sure you include your keyword (your small business name from step #1) as the first thing in the title of the release. Putting your business name first in the title gives your release the best chance of ranking in Google.
For example, "[Your Small Business Name] Announces Expansion of Manufacturing Facilities"
Be sure to include your small business name a few times in the release, too. A good way to do this without being spammy is by using quotes from executives of the company.
For example, "[Your Small Business Name] VP Joe Smith had this to say: We're very excited about the new facilities…."
Finally, include a link back to your small business website and social media links, if permitted. The advantage here is the more sites you get published on, the more links you get back to your site, making it stronger in Google. Adding your social media sites sends another strong signal to Google that when people search for your business, Google should show your social media sites, as well.
9 – Link building
Link building is the process of getting links from other reputable websites back to your website, social media, and any other positive content you control, like those items mentioned above.
Link building is an art all it's own. You can spend thousands of dollars with agencies who specialize in link building for online reputation management for small businesses.
But my recommendation is to cover the basics by yourself.
Make a list of all your positive online content under your control, including:
Your website (from step #2)
Each of your social media profiles (from step #3)
Any leveraged media sites (from step #5)
Interviews (from step #6)
Press releases (from step #7)
Then cross-promote your content each time you publish something new.
For example, your byline in one of your interviews could say, "View our latest press release at [link to press release] and follow us on [twitter page link] and [facebook page link]."
I've already mentioned putting your social media links on your website and vice versa and the more you tie all of these links together, the more you signal to Google that this little "intranet" of yours is all connected. This tells Google that when someone searches for your small business name, they should show all of these things because they are linked together.
It's the best way of protecting your small business reputation.
Reputation Management For Small Business [Video]
Transcription
Mike: So today we're going to talk about reputation management for small businesses. And this is going to be a little bit different than reputation management for individuals, also a little bit different from reputation management for professionals who are trying to protect their name. Today, we're going to specifically talk about businesses who have a company name, and they've Googled their business and maybe they see some bad stuff. So, can you kind of give me an overview, Matt, of just some general strategies for a small business that they can start doing, or that you would do, to help them protect their brand name, or to push down negative content about their brand on Google?
Matt: Yeah, of course. So, it's all about having a strong online presence. A few reasons, having a strong online presence will help your SEO, your search and optimization score, to help outrank competitors to drive in new clients. And two, from a reputation management point of view, if you don't have a strong online presence, and someone decides to write something defamatory, then there's no competition, it's going to skyrocket to page one. So, you want to build out an online presence to prevent any future slanderous attacks. And also too, it helps making it look more professional, like the leader in your industry, if you have a very filled out online presence. So obviously, a nice, fast loading homepage, user friendly. Google Page Feed Insight Scores is a free tool Google offers. It will tell you how fast your homepage is, and they'll give you any things you need to fix, great free tool.
Get on all of the social media platforms, LinkedIn, Facebook, Twitter, Pinterest if its relevance to your industry, Google Business. Get a Google Business listing, free, easy. Yelp, if you are amazing at what you do and you're not in a tough industry where people are going to complain, Yelp might be worth it. I usually tell people to stay off Yelp. For example, Yelp's average rating is a 3.5 while Google Business is a 4.3. People just love to complain on Yelp. Luckily, we know a guy who can take care of Yelp situations with complaints, but he's not that cheap. So, Yelp is probably the best one to avoid, but Google Business is huge. Facebook is good for reviews, MANTA, MerchantCircle, Foursquare, a little outdated.
Mike: I'm sorry to interrupt you, but when you talk about MANTA, Foursquare, here now, you're talking about small business directories. I mean, that's a massive category that any small business should be getting their business listed in as many of these directories as possible.
Matt: Exactly, there's a lot of "Angi's" – I got a big list in front of me. If you're a contractor, Home Advisor, Houzz, BuildZoom, tons of those for contractors. Trust Pilot's a great one for anyone, it  ranks really well. BBB accreditation: BBB is definitely in my opinion, a little outdated, but older demographics still really like BBB, and BBB does rank on page one of Google, so that has an importance there. So call BBB, say you're one to four employees, because you've minimum pricing. It's like $500 bucks a year. They give you accreditation, which is actually kind of a racket. There was a news company that called BBB pretending to be a terrorist organization and they still got accredited. So everyone gets accredited, and they'll give you an A plus rating and it helps with complaints and it helps with that everything. But the idea is just to get your name onto all these platforms and it'll help drive in more customers, it'll help with your SEO.
Mike: Right. With the ultimate goal, of course. To be able to protect page one. You want to look good on page one?
Matt: Exactly.
Mike: Okay. So just to recap, so we're going to take a look a couple of examples, but to recap, any small business owner should make sure they have a good website, claim their Google business page, do their best to have site links, which help to create a more robust looking profile. Get on all the social media, the major social media platforms, and then look for business directories that they can get in if they're not already on them or if they are on them, try to claim their profile and build it out as much as they can.
Matt: Yes. Use unique content, don't copy and paste. So talk about the company in the third person, 500 words-ish, you can say the same thing over and over, but in different word format, different word choices.
Mike: Right.
Matt: And also, it's probably more up the alley of a PR company like us, but some news articles and press releases has helped a lot too. If you have a promotion going, if you sponsored a charity that's local to you guys, if you have a milestone celebrating 10 years in business this summer, something like that, any story really helps you create a news article about it.
Mike: Well, there's a lot of things there that a small business owner could do themselves. And then some things that if they wanted us to help carry those strategies out for them, in addition to give them some great PR, maybe some interviews for their company that would really help them look great online. So let's take a look at a couple of examples I pulled up on a computer here. Just want to say these were pulled completely at random. These are not clients I just got them on Google.
Matt: Privacy is paramount for us.
Mike: What's that?
Matt: Privacy is paramount. We don't divulge our client list.
Mike: Yeah. So, I literally just got onto Google and I searched for "Dallas small businesses." And the first one I saw was a company called "White Rock Soap Gallery." And so I will put their screenshot up on the page as we're talking about it here. But as we go down the page, the first thing that I notice of course is their website. And then we see these site links here, the products, the candles, store locations and gifts. You get site links when you have a really good website and you can request site links from Google, but Google will decide whether they want to pick them or not. The algorithm picks them.
And they're the pages that they think are like the most important pages on your website. So. if you build out a good website for your business, with strong content, it's likely that you're going to have these site links. And this is helpful because, it makes you look good, number one. And it takes up a huge amount of real estate on page one. So "White Rock Soap Gallery," they sell soaps and candles and things, it looks like. They're a retail business in Dallas with multiple locations. And as we scroll down, we can see that they've claimed all their Google business pages. That's the next thing I see.
And then as we go down a little further, I can see the exact same things that you just mentioned. I see the Facebook page, which they're active on. I see a couple of business, small business listings. I see downtownmckinney.org. So that's a really kind of a neat one because it's just a local business directory and they're listed in there. And if it were me, I would contact them. If they don't have like a full robust listing with pictures and description, I would see if that's possible, especially if it's free.
Matt: Yeah.
Mike: So, as we scroll down the rest to the page one here – I don't want to do all the talking by the way, feel free to interrupt me or chime in.
Matt: No, no, I agree. They look great. They're not hitting every site that I would want them to hit, but they got the big ones on, at least. They got good ratings, they got good news articles, but there's always definitely room for growth for the company like this. And keep in mind, this is the number one rated website for "Dallas small business." So they obviously have a very high domain authority. Google's put a big emphasis on them, but even they have room to grow.
Mike: And another interesting one here, and this of course applies to retail is that I see this grandscape.com, which just said a quick look, it looks like that's actually the landlord. That's the tenant where at least one of their locations is physically located. So, if you run a retail business and maybe you're at a strip mall, if that strip mall has a website, you as a tenant may be able to get a listing on their website, which would be great for your business because a website like that's probably going to have a lot of authority. It's going to rank well. And you'd have control of the page, which would be outstanding. I do see Instagram and LinkedIn. And then of course, a couple shopping guides here, Amazon and "gift shops guide." So, these guys are actually looking really good online and a good strategy often is to Google your small business name, see what you see, but then maybe Google the name of a couple of your competitors and see what business directories are ranking well for them and go get yourself in those directories.
Matt: Another good strategy, too is to Google search your name, plus the word "reviews." A lot of people search that way and make sure it's all five stars and good platforms. If you have a listing, for example, that has a four star and all the other listings are five stars then hire us or someone similar to us, to do a suppression campaign to get that to page two or three. So, the idea is you want all your good platforms on page one and any bad listings on page two, page three.
Mike: Yeah. That's a great thought. Every business should be Googling themselves plus the word "reviews," because that is how people are considering doing business with you. That's how they search.
Matt: They're always looking for dirt on a company.
Mike: Yeah. All right. Well, let's look at case study number two. Again, chosen completely at random. I just look for concrete companies in Nashville and I pulled up this company called Crawford Concrete. So if you Google "Crawford Concrete, Nashville," that's the listing I'm looking at. And what's interesting for these guys is it looks like I don't even know if they're an active business because they don't even have a website, it doesn't look like. The first thing I see is Facebook, which again, speaks to your point of making sure you're getting on the major social media. Yes, I do see their Google business page, but there's no link here for them.
Matt: Their website is down. It's a 404 error.
Mike: Yeah. Maybe it's down.
Matt: What I was talking about, they got a one star on Yelp as it typically goes, so if I were them, I would get rid of that Yelp listing, but then things look good. They got LinkedIn, which is definitely one you need. LinkedIn is also for businesses, not just for individuals. They have two different options.
Mike: Yeah. Good point. So you could actually claim like a business page on LinkedIn, right? Give a whole profile of your business, your employees.
Matt: Yeah. You should have one for your business and at least one for each of your executives or people forward facing.
Mike: And then we, next thing I see here is BBB, which we talked about. MANTA is another one. So, there's really two kinds of directories is the way I see them, there are directories that they just automatically scrape information from the web. And before you know it, you have a listing on this directory.
Matt: Yelp does that.
Mike: Yelp is like that, I see they have MapQuest, MapQuest is like that. I think yellow pages also is like that. So some of these, you're going to appear on a lot of these directories, no matter what. Some of these directories will allow you for free to claim your profile and build it out. And it's so important because there's a big difference between like a yellow pages directory that just shows, maybe a business name, address, and a phone number, compared to a yellow pages listing that shows business name, address, phone number, website, description, pictures, hours, all that information is so much more useful for people who use yellow pages to find a business to work with.
Matt: Yeah, exactly. Yeah. Just get as much information you can on the page, upload pictures, promotions, keep active, respond to people. That all really helps with the SEO and just with customer service.
Mike: And the cool thing about these, like the business directories, the social media, a lot of small business owners might say, well geez, I don't really have time to do this. But if you have a marketing person, if you have even a receptionist, can be trained while he or she is taking calls or maybe doing some admin, they can go in and claim these profiles, update the profiles, respond to reviews, add stuff on social media and all the cumulative work that goes on there, all helps those profiles and social media sites rank better and look better.
Matt: Yeah. It's not rocket science. These companies make it really easy to sign up for them nowadays. They're always trying to upsell you and they want your money. So, they make it really easy.
Mike: Yeah. Well, this has been a pretty good overview. I hope that people find it, small business owners find it healthy and helpful. Anything else to add?
Matt: No, thank you for having me, pleasure.
Mike: All right. Thanks Matt.
Matt: Take care.