When it comes to removing content from Google search, there is no magic bullet.
While there are a number of companies that offer removal services (including us), there's no guarantee that they will be able to remove the content you want taken down.
Additionally, even if the content is removed from one site, it may still be accessible on other websites.
Below we'll explore how to remove content from Google search and guide you on what to be careful of.
And remember, we are the most affordable option for removing negative content; please contact us for a quote and include the exact links you'd like removed.
What Do Content Removal Companies Do?
Online content removal companies remove unwanted content for individuals and businesses that is inaccurate, abusive, or otherwise harmful.
The methods used can vary, depending on the piece of content.
These methods can include negotiating with website owners, filing takedown requests, and using automated tools to remove content.
If you need to remove content from Google and all other search engines, make sure the company is reputable and that they have a good track record of removing content successfully.
We have an excellent track record, with a 70% success rate.
What Are The Risks Associated With Using Content Removal Services?
There are a number of risks associated with using online content removal services.
It doesn't work. There is the possibility that the service may not be able to completely remove the content you want removed. This could leave you with a partial solution that does not solve your problem.
It's done improperly. There is the potential for the service to cause more damage than good. If the content removal service is not careful, they could end up removing content that is important or valuable to you. This could cause you to lose important information or pictures.
Extortion. Finally, there are some content removal services that are used for malicious purposes. If someone were to use the service to remove positive reviews about your company, for example, it could severely damage your reputation and hurt your online presence. Another practice we've observed involves companies that post bad reviews or damaging information and then require the person or company to pay to have the content removed.
While these bad actors are not the norm, improper, and sometimes even illegal activities have been known to happen.
We've dealt with thousands of businesses and individuals and some of them have been burned by paying companies and receiving nothing in return.
Check out our guarantee below.
What Guarantees Are Made With Content Removal?
Some companies will offer a guarantee, take an upfront deposit to begin work, and then disappear.
Be careful.
If you're paying a deposit, make sure it's using a credit card or PayPal or some other method where you have recourse to get your money back in the event the content does not get removed from Google.
In our case, we usually ask for a deposit to ensure that you're serious and that your payment method is valid.
The deposit is 100% refundable with no questions asked if the content is not removed within the agreed time frame.
We are not in business to make enemies; you will defintely get your deposit back if we are unsuccessful.
Watch the video below to understand our content removal guarantee in full.
It's important to note that "Guaranteed Removal" does not always mean your content will be successfully removed.
If you decide to work with us, you get a money back guarantee if we're unsuccessful.
If you choose not to work with us, make sure you're protected before you authorize any work or make any payments.
Finally, be suspicious of any company that offers guarantees that seem too good to be true.
How Can I Remove Negative Content From Google?
If you have information on the internet that you want removed, there are a few steps you can take.
First, try contacting the website owner or administrator and asking them to remove the content.
If that doesn't work, you can also try contacting the hosting company or ISP and asking them to take the information down. If all else fails, you can file a court order to have the information removed.
Depending on the type of content involved, you might be able to file a DMCA notice. The Digital Millennium Copyright Act (DMCA) is a U.S. law that provides protection for online service providers against liability for copyright infringement. If you believe that someone has copied your work without your permission, you can file a DMCA notice with the service provider.
You might also like: How To Remove Personal Information From Google
Here's a step-by-step guide on how to file a DMCA notice:
Identify the copyrighted work that you believe has been infringed.
Identify the material that you believe is infringing on your copyrighted work. This can be anything from a blog post to a photo to a video.
Include your contact information in the notice so that the service provider can contact you.
Include a statement that you have a good faith belief that the use of the material is not authorized by the copyright owner.
Note that some bad actors will file a false DMCA claim (http://affordablereputationmanagement.com/fake-dmca-takedown/) as a way to get competing information removed.
List Of Websites We Can Remove/Suppress Content From
We can remove or suppress negative links from each of the websites listed below.
Request a price quote by completing the form on this page.
What Is The Difference Between Deleting and De-Indexing?
Most reputation management companies (including us), promote "content removal" as a single service.
However, "content removal" sometimes means deletion and sometimes it means de-indexing.
What is Deleting Content?
Deleted content is removed at the source.
After it is deleted, it could take a couple of weeks to fall out of Google's search engine, at which time it will no longer appear in search results.
Most of the time, deleted content is permanent and forever, but check the terms of your agreement before you engage anyone to delete content.
Please also note that deleted content can appear on other websites that re-publish or scrape information.
A good way to check in advance if your content exists elsewhere is to do a search of a portion of the content on the target page, in quotes.
Here's how to do it.
Take a look this page on my site: https://affordablereputationmanagement.com/remove-bad-reviews-on-google/
Notice there is a sentence in the first section in red per below: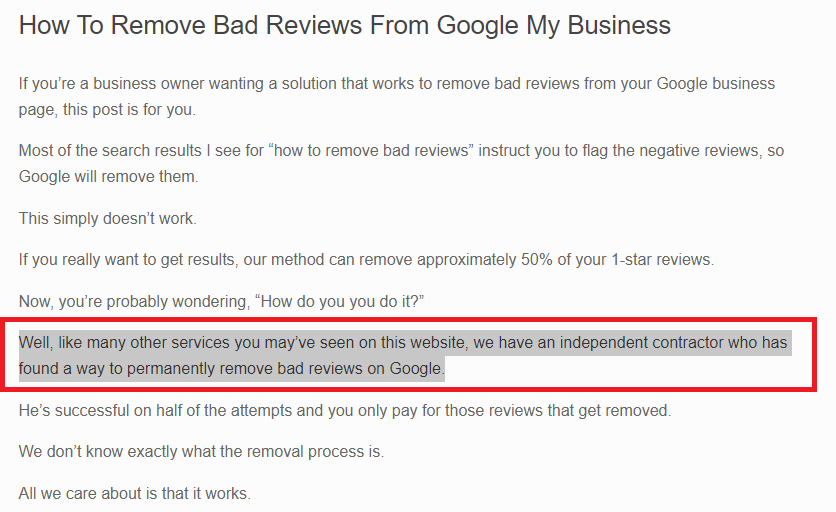 Now, copy and paste that sentence, put quotes around it, and do a Google search.

Notice that there is only 1 result.
That's what we want to see.
If there were more than one result, you would want to click on and check each of the other sites to see if they have the same exact content on them.
This is important because if there are multiple sites with your same exact negative content, Google is probably only going to show one of them in search results.
However, if you delete the content from one website, Google may begin to show one of the remaining websites with the same content.
If you're concerned about this or need help understanding it, please just ask.
We're happy to help and advise you, so that you understand it.
What is De-Indexing Content?
Content that is de-indexed has a little snippet of code on the page that tells Google NOT to index the page.

When a page is de-indexed, it will not show in Google search results because Googlebot has been told explicitly not to display the page in search results.
However, the page itself still exists on the website.
This means that if someone has the exact link to the page, they can still see it and share it.
For most people, de-indexing  is sufficient because it achieves the result people want: the content cannot be found by searching Google.
A case where de-indexing could still be a problem for you is if the direct link was shared with people on social media or in email chains.
While the link would not be found if someone went to Google to look for it, they could still refer back to it if it had received a lot of attention on social media sites like Facebook or Twitter.
Again, we are happy to help you determine this and advise you.
Deleted vs. De-Indexed Content Summary
Whether content can be deleted or de-indexed is usually up to the publisher of that content.
The good news is that either deletion or de-indexing achieves the same outcome: the content is removed from Google search.
How Long Does It Take To Get Negative Online Content Removed?
There is no one-size-fits-all answer to this question, as it depends on a number of factors, including the type of content, the platform on which it is hosted, and the company you hire to remove it.
However, in general, you can expect the process to take anywhere from a few days to a few weeks.
If a company is telling you it may take longer than three months, that should be a red flag.
Some companies will require an ongoing contract, and even if it seems like a small amount, there's no reason to waste your money on a service that can't get the job done.
In my experience, if the content isn't removed within two months, it's never coming down.