We offer complete removal of profile pages on Lensa.com.
We do not offer Lensa review removal; however if you have a number of bad employee reviews, deleting your entire page from the website will make those reviews go away and restore your business's online reputation.
Please provide the exact link you'd like remove if you choose to request a quote.
What Is Lensa.com?
Lensa is a job posting site like ZipRecruiter or Monster.com.
Employers can pay to post jobs that the site claims will reach millions of potential employees.
As a job seeker, you can upload your resume to the site and sign up for job alerts that match your interests.
While the domain name was registered in 2001, the site has just recently become more well known, as a job search engine.
The site was registered anonymously, but a Google search reveals that Gergo Vari is the founder.
In addition to earning revenue through job postings, the site also sells sponsored ads that lead to off-site opportunities.
Lensa Business Profile Page
Below is a sample screenshot for General Electric Company chosen at random from Lensa.com.
As you can see, the star rating of 3.3 jumps right out at the top of their page.
With one click, job seekers can view all of GE's reviews or leave a review of their own, although to leave a review, you have to sign up as a user of the site.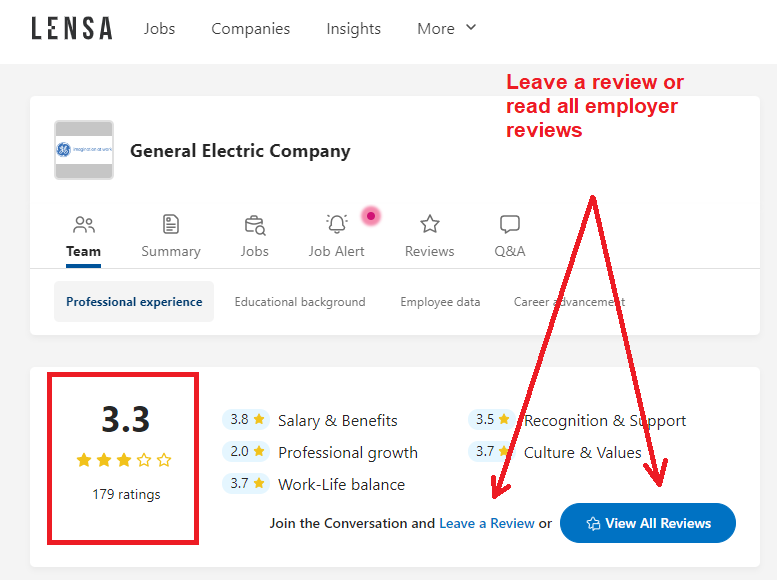 In addition to reviews, the profile page is lengthy and offers former, current and future potential employees a chance to interact, answer questions and learn more about each company.
GE's page contains many questions on the following topics that anyone signed up to the site can answer:
Years of experience
Former employers
Industry background
Past employers' size
Educational background
Colleges attended
Time employed
Age diversity
Gender diversity
Top roles
And many more.
For employers with lots of employees, one could actually glean a lot of information from viewing an employer's profile page.
Lensa Review Removal
Of course, the downside of having such a robust profile page is the likelihood of receiving poor reviews.
Former employees who hold a grudge or feel they were mistreated – whether true or not – are able to post reviews to an employers business page.
One and Two star reviews like the one pictured below do serious damage to your company's credibility.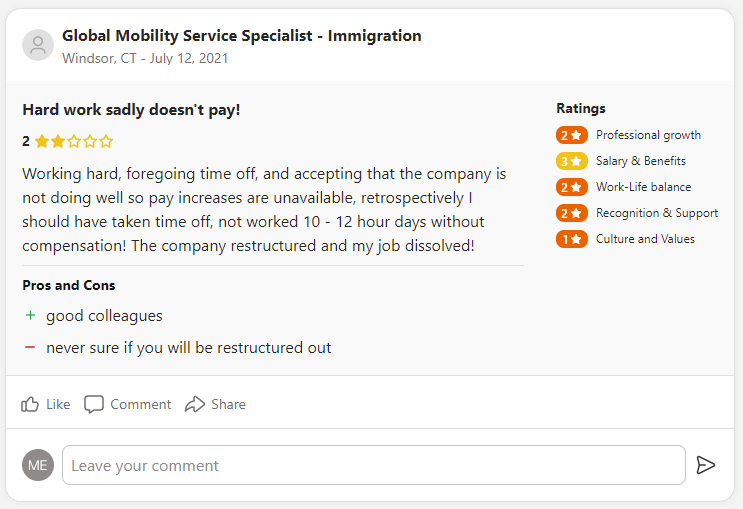 I wish we could pinpoint and remove individual reviews on Lensa.
Doing so would allow you to keep your company page intact.
Alas, Lensa review removal is not a service we offer.
Instead, we offer complete deletion of your entire page, thus eliminating all of the bad reviews along with it.
How To Delete Your Business Page On Lensa
Most of the employers who contact us are happy to have their entire page removed because it is one less thing for them to worry about with regard to their online reputation.
If you would like to get your Lensa page removed, follow these steps:
Complete the quote form on our website and include the link to your Lensa profile
You will receive a 100% guaranteed quote to delete your page
Authorize the removal and your page will be gone within one week
The video below gives a more detailed over and reviews the steps needed to get rid of your Lensa profile.
How Do I Delete My Lensa Account?
Please note that the FAQ on Lensa's website titled, "How do I delete my Lensa account?" is NOT the service we are offering.
This FAQ applies to individuals who wish to delete their account; it does not provide any help to employers who want to remove their business page.
Wrapping It Up
Employer sites like Glassdoor, Indeed, and Lensa can be a real thorn in the side of small business owners looking to build and maintain a stellar reputation on the internet.
A lot of the power of these sites is given to the employee, who can do damage with a single negative 1-star review.
And while we can't target individual reviews for removal from Lensa, we can get your entire business page taken down from the website.
The service is fast – usually in about a week – and fully guaranteed.
So, if you notice a "not so good looking" Lensa page showing when you perform a Google search of your business. contact us for a removal quote.