Hucksters.net removal takes about 2-4 weeks to complete for a 1-time affordable fee.
If you've found yourself on this site and would like to stop seeing it appear in Google search results, please contact us for a guaranteed quote.
When you reach out using our contact form, please include the link you want deleted.
About Hucksters.net
Hucksters.net was originally purchased as a domain in May of 2019.
Like many other complaint websites, the identity of its owner is anonymous.
As of the writing of this blog post in June of 2023, Hucksters has a domain rating of 12 out of 100, according to Ahrefs.

While the site is newer and has a relatively low domain authority, it is beginning to appear more often in Google search results, thus making it a problem for individuals and businesses trying to protect their online reputation.
It feels like these complaint site websites all make the same claims in their tagline.
Huckster's mission is to "expose fraud, corruption, censorship, and propaganda."
If you check out the bylines for ScamPulse and Gripeo, you'll see similar claims being made – as if these sites are the Robin Hood's of the internet.
How Content Gets On Hucksters.net
As you can see from the bright red "Suggest Listing" button on their home page, Hucksters will generally publish anything submitted, as long as it doesn't contain any confidential data such as medical, financial, or personal contact records.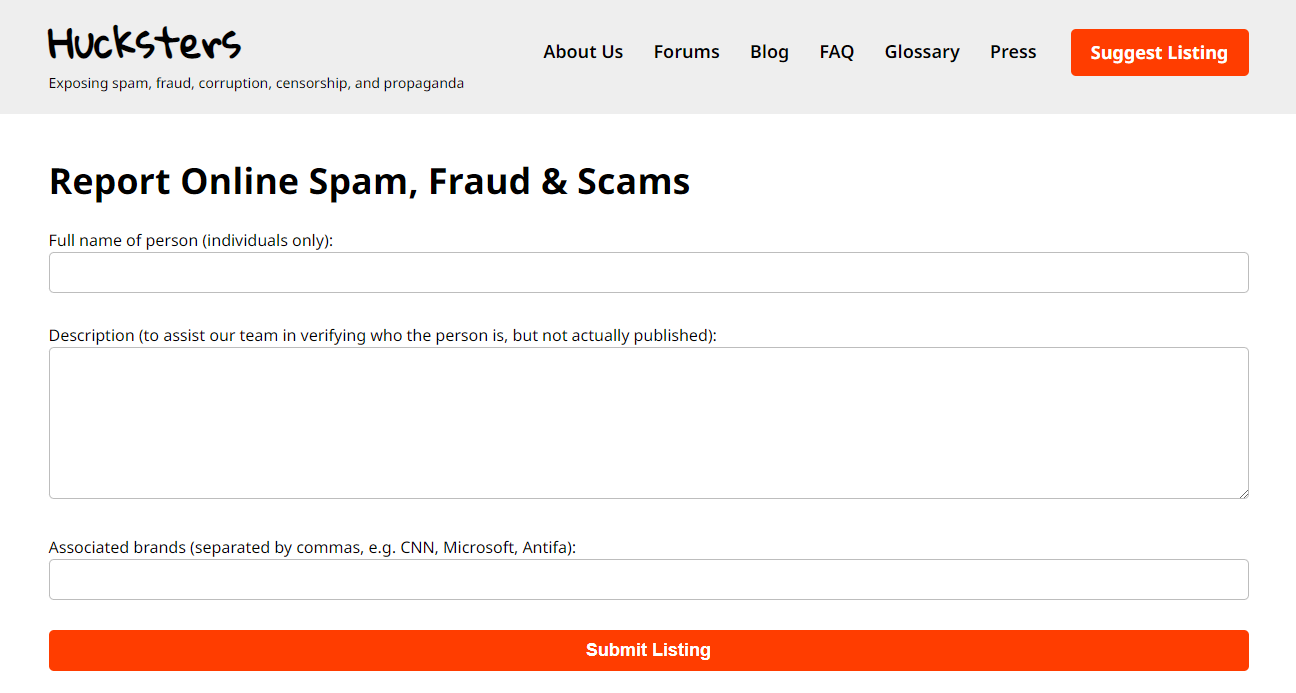 The website also claims to do a "deep dive" into the backgrounds of individuals and companies before posting content on the site.
Whether they do or not is anybody's guess, but for my money, I doubt there's much done in terms of research, let alone editorial review.
So, it does look like it's pretty easy to put out a hit piece on Hucksters.net with no repercussions.

Our Removal Process
Our removal process for Hucksters.net works like this:
Fill out our contact form and include a link to the page you want deleted
We provide you with a guaranteed affordable price to remove it
You authorize removal and we get started
It's about a 2-4 week timeline to accomplish the removal.
However, it's important to note that we don't remove content directly from the website.
The content will remain in place on the site, but it gets removed from search engine indexes.
This is an important distinction and means this:
If someone goes to Google, Bing or other engines and searches for you or your business, they will not be able to find the article on Hucksters.
It will be like it doesn't exist because Google doesn't know about it.
The actual link on Hucksters will still remain and the only way people will see it is if they kept a direct link to it.
There is no way to get the article deleted at the source.

Summary
If you'd like a quote on Hucksters.net removal, please contact us using the form on this page.
We look forward to helping you restore your sterling online reputation at an affordable price.