DocketBird removal of your court case is available at an affordable price.
If you have tried to delete a case from DocketBird.com without success, please contact us for a quote.
DocketBird Overview
DocketBird offers real-time monitoring of court cases and docket sheets for federal court cases and from courts in the following areas:
New York
New Jersey
Los Angeles
Chicago
Miami
You don't have to be a lawyer to download documents from their database.
For access to other local court records, their developers build integrations that can be uploaded to your shared Dropbox, Box and other folders, making team access a breeze.
DocketBird's strength appears to lie in it's paid API integrations: at the touch of a button, court cases are available to your staff.
They also offer customized integrations via their API so that you can upload documents to a variety of other software management systems.
First registered in 2014, the site is home to over 30,000 indexed pages in Google, as of February 2023.
The conpany was founded in Portland, Oregon by Todd Kennedy and Darek Teller.
DocketBird And Your Online Reputation
DocketBird has a domain rating of 60 out of 100 according to Ahrefs.com in February 2023.

With their domain authority only getting strong each year, it presents a problem for your online reputation.
If you have a court case link on DocketBird.com, it's likely to appear on page one or two of search results when you Google your name.
Since most people would prefer to move on from a court case which represents a difficult time in their lives, you'll want to delete or suppress the listing, so no one can find it.
If you live in Europe, Argentina, or the Phillippines, the right to be forgotten law would allow you to petition search engines to remove your information.
However, in the United States, there is no such law.
So, if you want to hide the DocketBird link, we can help you do that.
How To Delete A Case On DocketBird
You can delete court records from DocketBird all by yourself.
I emailed them myself to make sure the steps below work.
Step #1: Contact DocketBird by clicking the "Contact" page in their website at the bottom.

Step #2: Request removal of your case. You'll be send a PDF including a notary form like the one pictured below.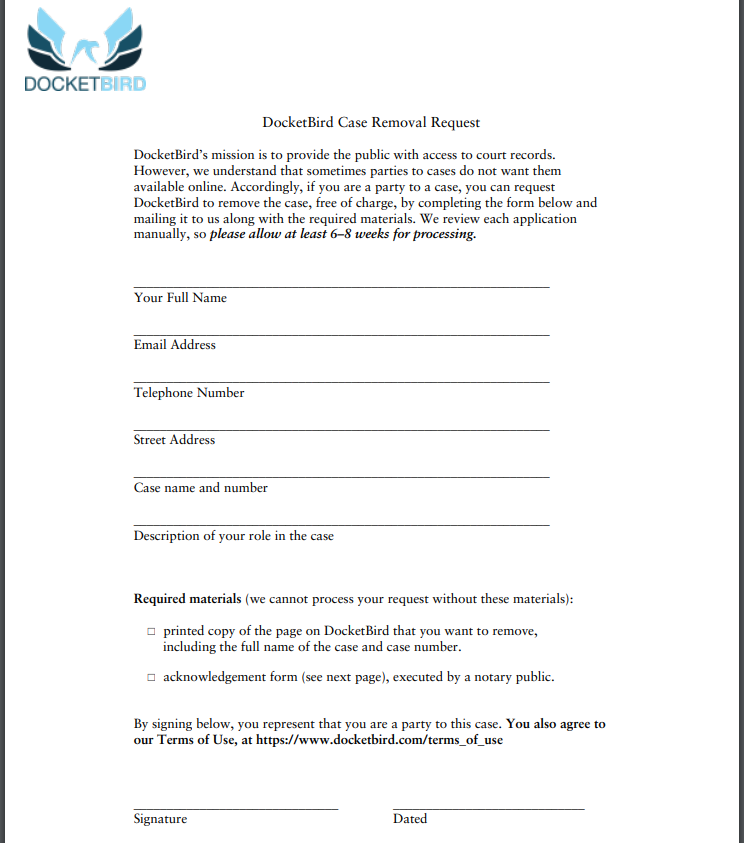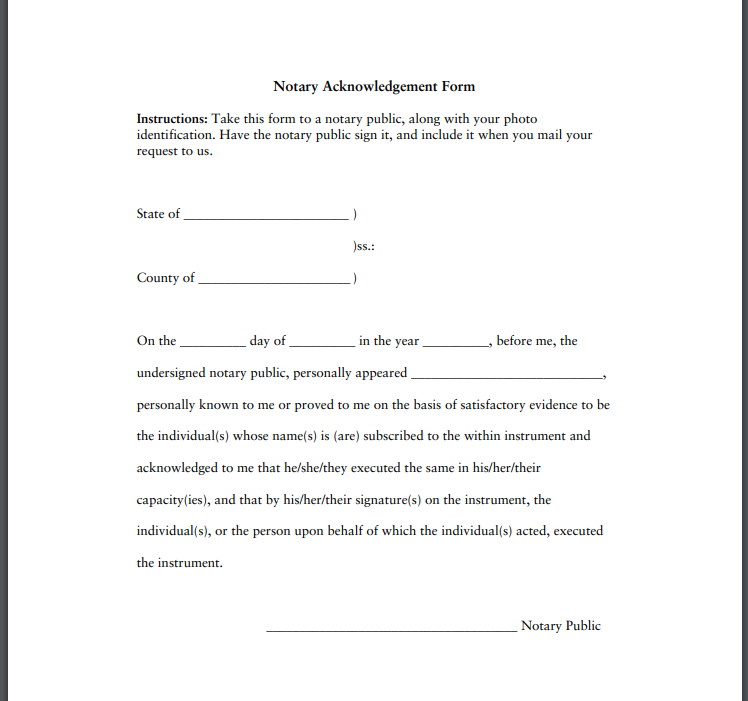 Step #3: Fill out the form completely, get it notarized and send it back to:
Mink LLC
Attention: Removals
5940 S. Rainbow Blvd., Suite 400
PMB 66425
Las Vegas, Nevada 89118-2507
DocketBird states that they will manually review your submission and will process it within 6-8 weeks.

DocketBird Won't Remove My Case
Of course, following the steps above is no guarantee they will actually remove your court record.
So, if you've tried the steps above without success, then please contact us.
Our method is proprietary and guaranteed to remove your Docketbird record within 1-2 weeks.
Conclusion
Public court records websites are becoming more prolific as software development improves.
Websites like DocketBird provide a valuable service for those looking for updates in real time.
But if you've got a case listed on the site, we can remove it for you for an affordable one-time charge.
We look forward to helping you take charge of your online reputation.