We can edit Google Knowledge Panel for anyone.
If you've tried without success to change anything on your panel, you are in the right place.
If you want to hide, remove, or add information to your Google Knowledge Panel to help brighten your online reputation, our service is fast and guaranteed.
What is Google Knowledge Panel?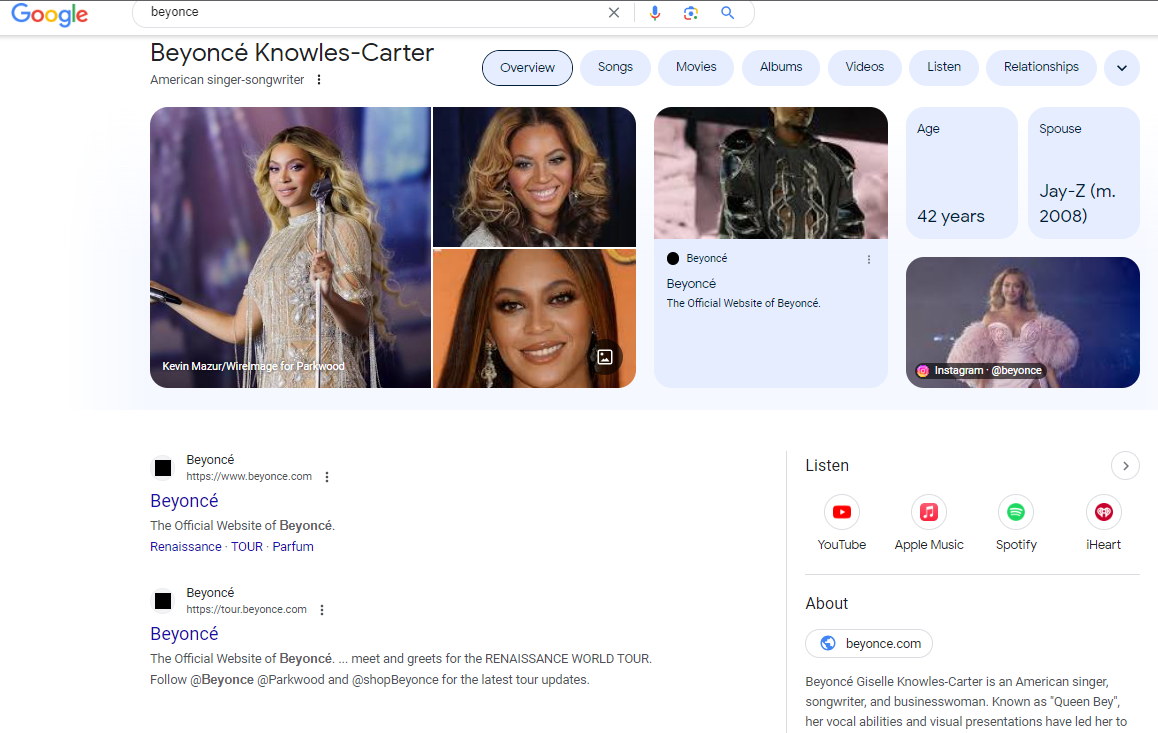 Google Knowledge Panel is a biographical profile that appears when you Google someone who is well known, like a musician, artist, author, politician, celebrity, or business person.
The panel can feature a wide array of information about the individual you're searching for, including both business and personal information.
Knowledge panels almost always include an "About" section which is pulled from Wikipedia and includes core statistics such as birthdate, birth place, spouse, height, children, parents, and full legal name.
The specific information displayed varies from one person to the next, depending on what is available from trusted online sources.
For artists, like Beyonce, the panel can include links to help users quickly access:
Overview
Songs
Movies
Albums
Videos
Relationships
And more.
For business people, it's common to see information on net worth and companies the individual owns or is affiliated with.
Recent news stories are shown when the person has been in the news recently.
Links to social media profiles such as Twitter, LinkedIn, Instagram, YouTube, and Facebook are displayed and Google frequently shows a small group of people under the "People also search for."
A variety of images and videos are a click away.
Who Qualifies For A Google Knowledge Panel?
I was curious what the parameters are for getting a knowledge panel, so I turned to Google for help and queried: Who Qualifies For A Google Knowledge Panel?
The support article from Google is titled "Get verified on Google," but when I read the article, it isn't helpful.
Like many of the Google support articles, it just takes you around in circles.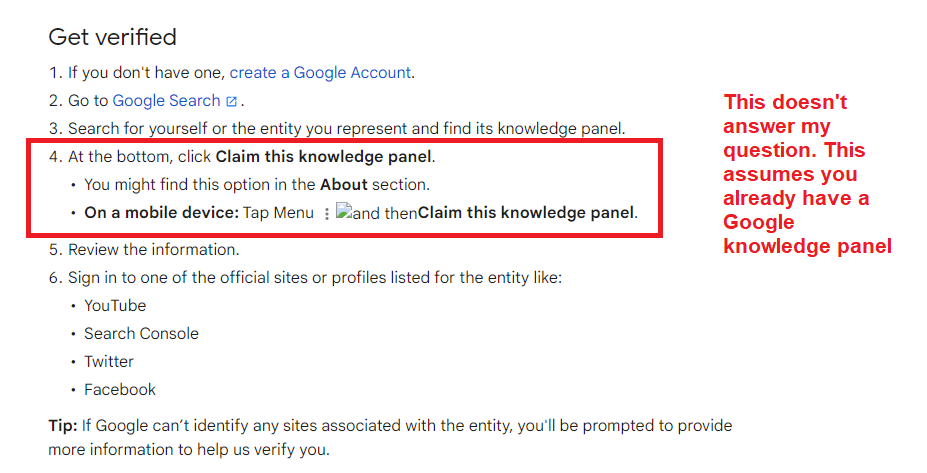 Looking a little deeper, I did find this clue on Google's website: "Knowledge panels are automatically generated…"
The top ranked search result to my original query above came from Yoast.com, a name I trust in the SEO world.
As you can see, "Google will decide…if you or your brand has enough authority…" to get a knowledge panel.

Thus, the qualifications for who and what gets a knowledge panel are murky at best.
But we can create a Google Knowledge Panel for you.
Why Is Google Knowledge Panel Important?
Google Knowledge Panel is super important because it's the first thing you see when you Google someone.
When it comes to protecting your online reputation, your Google Knowledge Panel will outrank everything else.
Even if you have a negative .gov link or news story you want removed, if you are a person of prominence, the knowledge panel will be shown above all other search results.
In some cases, Google may show the knowledge panel at the right (similar to a Google Business Page).
Certainly, this is still valuable page one real estate, although right-facing panels don't automatically push down the normal search results.
In the example below for Elon Musk, you can see that his Wikipedia and Twitter links appear at the top of the page.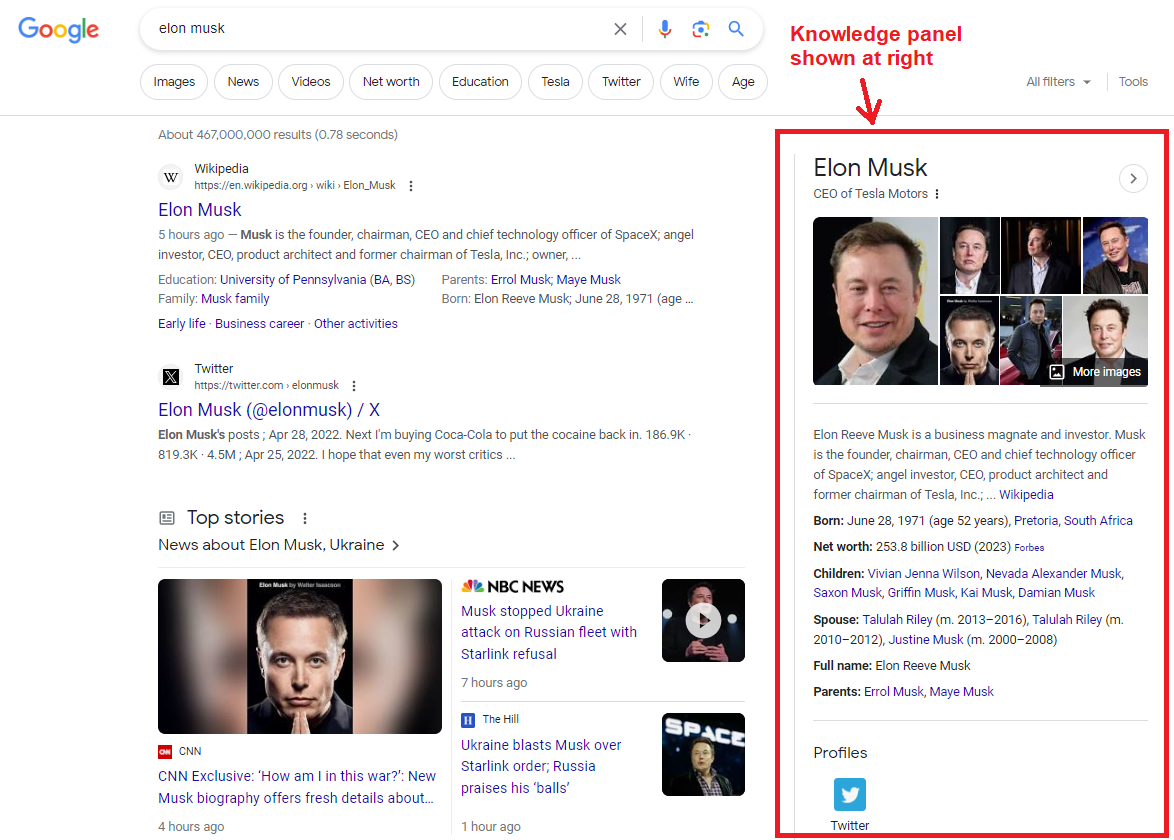 Given the high placement on page one of Google search results, it will be the first thing people see and when it comes to online reputation, you will want to control all aspects of what is shown in your panel.
If there is anything you want to edit, change, remove or update, we can get it done for you.
How To Edit Google Knowledge Panel
If you already have a Google Knowledge panel and have tried editing it without success, this is where we can help you.
To make changes to your panel:
Contact us using the form on this page
Tell us "I want to edit my Google knowledge panel"
Include the exact information you want removed or changed
Include the name or entity you are Googling that makes the panel appear
We'll take a look and get you a quote.
The process is quick, easy, and affordable.
Attempt To Edit Panel Yourself
If you haven't yet attempted to edit the panel yourself, we encourage you to try.
In our experience, attempts to edit the panel yourself are fruitless.
But it doesn't cost anything, so you might as well try it.
To get started, Google the name or entity whose panel you want to change.
You will see opportunities to either "Claim the panel" or provide "Feedback."
Click on the appropriate option.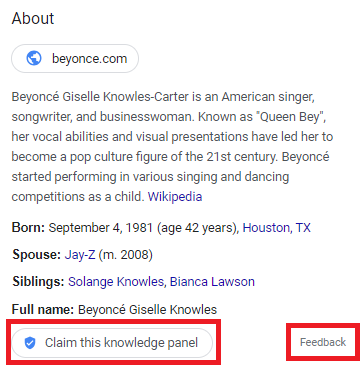 If you choose the "Feedback" option, you'll see a new screen appear that gives you flag options for what you want to change.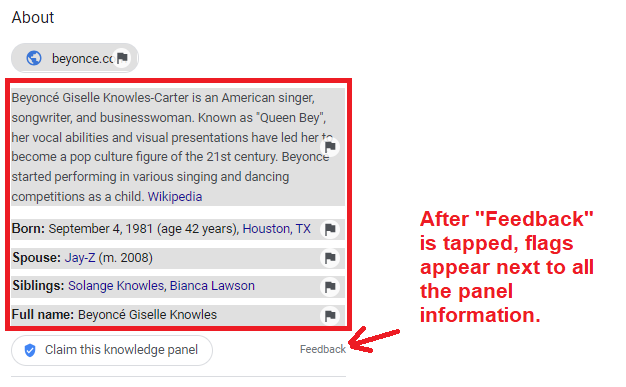 After clicking on the flag next to the information you'd like to change, a new feedback box will appear, where you can provide more detail.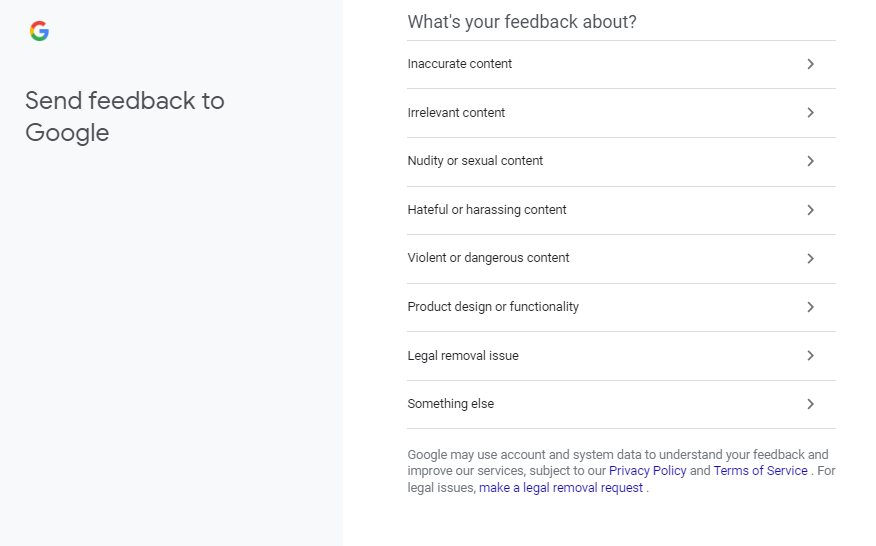 After you submit your feedback, you go into "wait and see" mode.
With luck, Google will make the changes you've submitted.
But if you want it done 100% guaranteed and fast, please reach out to us.
Case Study: Before and After
We've edited Google Knowledge Panels for several clients and below is a before and after screenshot, so you can see how it works.
Of course, like most of our services, you do not pay unless we're able to make the edits you want and you're satisfied.
Before
The client was in the entertainment industry and his age appeared in two places, as seen below.
Name and personal info redacted to protect privacy.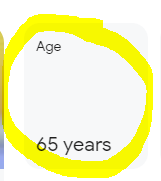 After
Within a week, we were able to remove both age references.
His age no longer appears on his knowledge panel when his name is Googled.
The "Age" box was removed completely and the About section was changed successfully.
His city of birth (redacted) still appears, but the age and birth year are gone.
The line that began with "Born: 1957…." is removed.

Summary
You've seen how important a Google Knowledge Panel is to your online reputation.
False, erroneous, or unwanted information can be damaging to your personal brand or your business's reputation.
If you've become frustrated and weren't able to change the information yourself, we can help.
Our solution to edit your Google Knowledge Panel is 100% guaranteed to work.