We can delete Youtube videos someone else posted – guaranteed.
This is  a permanent service to get rid of ANY Youtube video someone uploaded about you that is hurting your business or personal online reputation.
Don't waste your time flagging a video or filing a removal request: Unless the video is a clear violation of YouTube's terms of service, flagging it will not get it removed.
Our professional service is your best course of action if you want a solution that works.
Watch Our Video About Deleting YouTube Videos
Why YouTube Videos Are So Powerful
In the 21st century, almost everyone has a cell phone and can quickly document news events via video.
It's easy for anyone to make a scathing video review of you or your business and post it online.
Here are the reasons why videos are so powerful and why you'll want to get them removed.
Seeing is believing. A negative video review of your business has more impact than a written review. Whether the review is true or false, an unflattering video testimonial can hurt your reputation more than a few sentences on a website. People believe what they see.
YouTube is the world's 3rd largest search engine. After Google and Google images, more searches are made each day on YouTube than on any other search engine.
Video is "Proof." While opinions and so-called factual accounts can be dismissed as hearsay, video is proof of what happened. Think about it. If there's a negative local news story about you that includes video footage of you or maybe a mugshot, that video is going to hurt as much – or more – than the same story in a newspaper.
Many people turn to Youtube when they are researching your company or business and it's important that you have control over what they see.
Our removal service helps you protect your internet reputation by giving you the power to delete the videos that are negative, false, defamatory or which violate a copyright or company trademark you own.
How We Delete YouTube Videos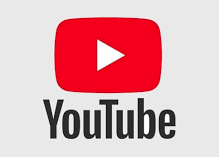 Unfortunately, our methods for removing Youtube videos from the web are proprietary, but rest assured – our strategy is effective.
We don't collect money up front, so there is no risk to you.
All we ask is that you contact us and provide the link to the unwanted video, so that we can get you an accurate quote.
If you decide to move forward, your company's valuable online reputation will be restored within a few weeks.
Types Of YouTube Videos We Delete
Videos of bad reviews or negative testimonials about your business
Videos featuring false advertising about you or your business
Videos that infringe upon a copyright or trademark violation
Any video you feel is harmful to you personally or to your company
The Power of 3: The Youtube Review Carousel
As you can see in the example below, when you Google most company names plus the word "reviews" you could see videos like the ones below, where customers have went online to post a video review of your business.
No matter whether the video is true or not, posted by a real customer or by a competitor trying to attack you, people watch reviews like the 1st one and 3rd one below and they can hurt your ability to attract new customers.
The Youtube Video Carousel now features three videos side by side and a simple click of the mouse allows consumers to see more videos.
We recommend you Google yourself frequently or setup a Google alert to be notified when new content is published about you or your business.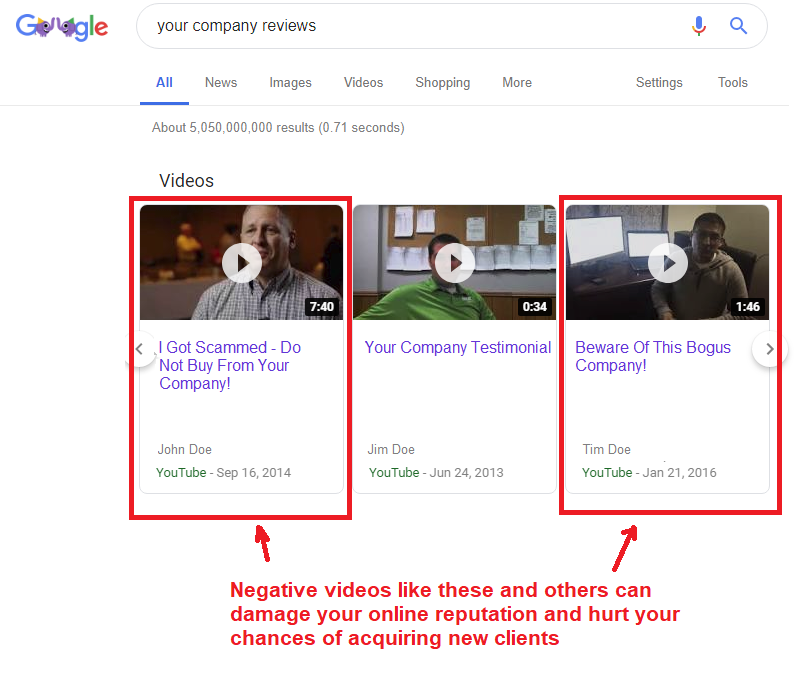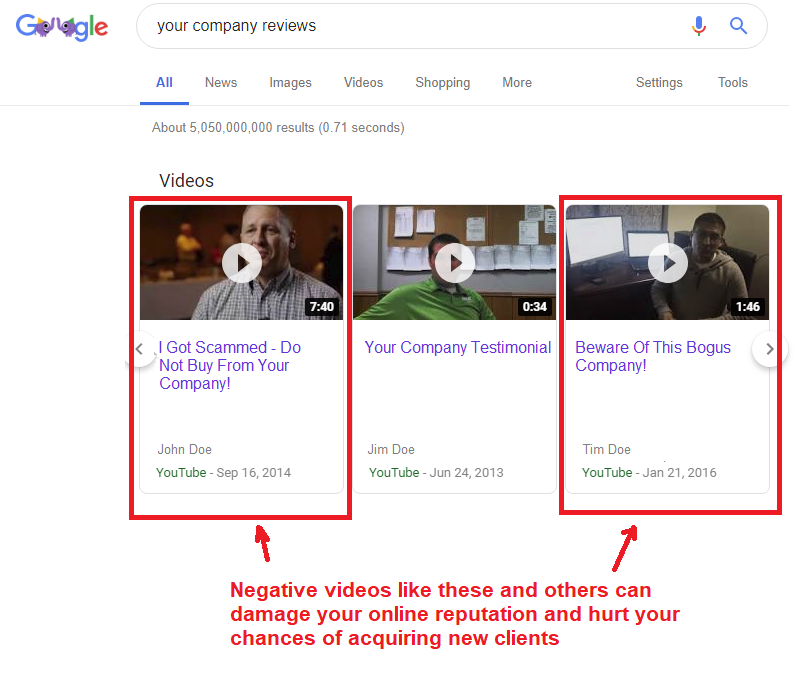 Case Study
One of our clients has developed a huge online brand in the investments niche.
He offers an excellent training course and tutoring that customers can purchase to put his methods into place for themselves.
The course costs several thousand dollars and he has hundreds of positive reviews all over the internet from people sharing their honest opinion of how the course has changed their lives.
Once in a while, someone will post a negative review just so they can gain traffic and sell advertising.
Unfortunately, this is a common practice on the internet – there are hundreds of sites that publish information about your company and insert words like scam, complaints or ripoff. They do this just so they can get traffic to sell ads, or, in some cases, so they can charge you to delete the page in question. 
This practice is despicable and our client fights back by removing such videos.
Furthermore, another company setup a brand with very similar phrasing which is misleading to the general public.
This new company is a complete scam, trading off the popularity of our client to generate their own leads and sell products.
While he pursues legal action against them to make them cease and desist, he carefully considers our Youtube video removal service to nip the problem immediately.
Guaranteed Removal Of YouTube Videos
If someone else has uploaded a negative video about you or your business, you can get it removed.
Our service is fast and effective; simply contact us and send us the YouTube link in order to receive a quote.
We look forward to helping you take back your online reputation.