This post is for employers who want to delete Indeed reviews that are false, fake, or negative.
Our removal service for Indeed bad reviews is guaranteed, so you are only paying for those 1 and 2 star reviews we remove from your employer profile.
Reach out for assistance via our quote form and get started today.
About Indeed

Indeed.com was first registered by MarkMonitor Inc. in March of 1998.
The site is a massive resource of employers, employee resumes, and salary estimates for thousands of jobs.
Indeed claims there are over 245 million resumes on it's site.
It's hard to find out exactly how many job postings are on Indeed, but suffice it to say that with over 350 million unique visitors each month, Indeed is near the top of the job market along with Glassdoor and LinkedIn.
In addition to being over 25 years old, Indeed boasts a strong domain rating of 92, which means your company profile page is likely to rank on page 1 when you do a Google search for your business name.
Indeed Employer Profile
When employees use Indeed's search bar, the first thing they're going to see is a list of companies and their star ratings.
Let's say you're looking for a job in the solar industry.
You go to Indeed and make you're search and you see a listing of companies.
This is the first time your score shows up on the site and you want to be at least 4 stars, so that you outrank your competitors.
Having a strong star rating is helpful in attracting the best candidates to your company.
In the screenshot below for solar companies, which of the businesses would you be most interested in working for?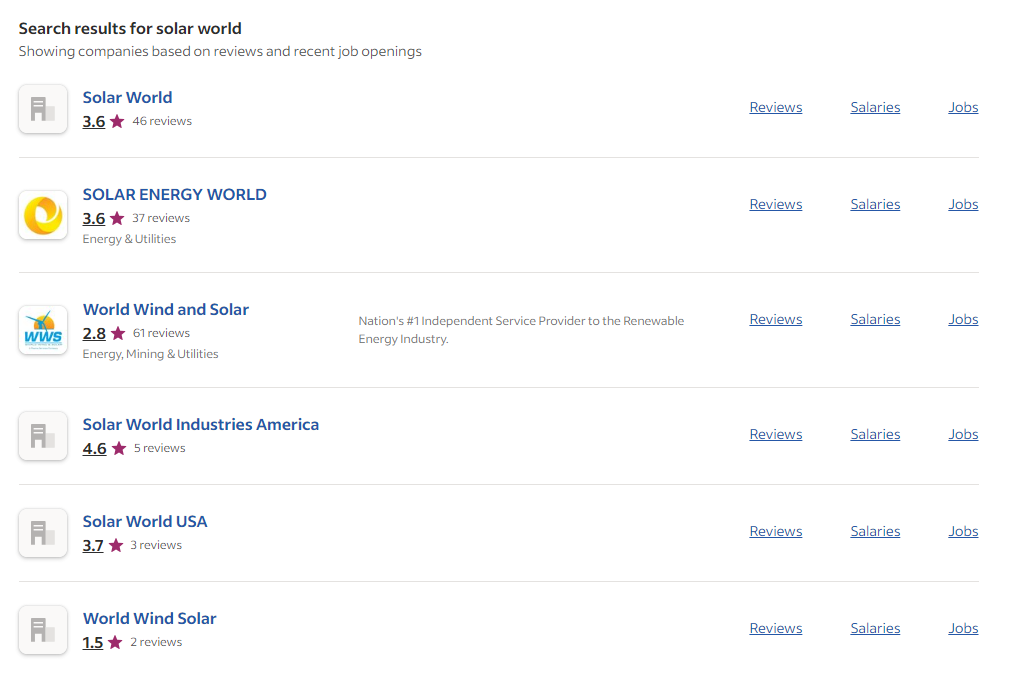 You probably would not want to work for World Wind Solar – their two locations are rated 2.8 and 1.5.
In a moment, we'll take a look at a case study for how we could help World Wind Solar improve their Indeed rating by removing negative reviews.
But for now, let's go over the aspects of their employer profile in detail, so you can see how much it effects their online reputation.
(Please note, I don't mean to pick on World Wind and Solar; I'm only using them as an example.)
Work Wellbeing
Upon clicking on their profile, I found more detailed information about how employees feel about the company, including grades for all of the following:
Work wellbeing
Happiness
Purpose
Stress-free
Satisfaction
Learning
Achievement
Energy
Appreciation
Support
Inclusion
Management
Trust
Belonging
Flexibility
Compensation
About the company
The next section titled "About the company" contains a description of World Wind and Solar along with a CEO rating.
Their CEO rating is only 44%.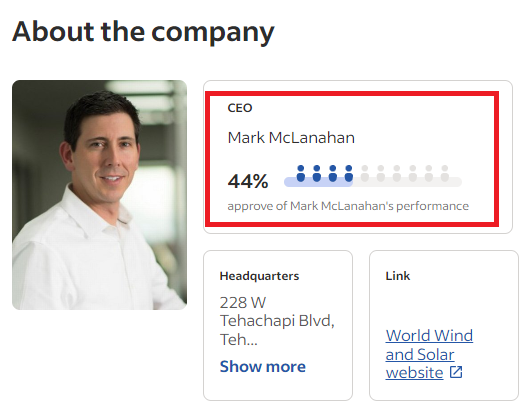 Salaries
Next is a "Salaries" section with highlighted jobs and approximate salaries.
You can click to explore more salary information.
Rating Overview
The next section is the one that really hurts.
It's called "Rating overview" and tracks your company's average rating score on a year to year basis.
Unfortunately, the company in our example is trending downward.

Users can dive deeper into specific review categories such as:
Work & Life Balance
Job Security & Advancement
Culture
Compensation & Benefits
Management
Reviews
Next, is a Reviews section where you can see a handful of the review details for the employer.
Some of the titles of the reviews are damaging: "trash company" and "toxic and drama filled" really hurt.
You can click to see all reviews, but you'll need to create a profile in order to see them all.
Questions and answers
This section of the company profile allows you to get answers to popular questions, and specifically, you can sort by:
Popular questions
Interviews
Hiring process
Promotion
and many others
Interview insights
This is a section that features feedback from those who have interviewed with the company.
A few snippets are shown, but again if you click to get more information, Indeed prompts you to create an account before you can view the data.
Common questions about [company name]
Thie is an FAQ section featuring a half dozen or so questions about your company.
Some examples of common questions might be:
Is it hard to get a job at [company]?
What is the hiring process at [company]?
Who is the CEO of [company]?
How many employees does [company] have?
Working at [company name]
This section contains specific job titles and the ratings for thos specific jobs.

What's being discussed at [company name]?
Lasty, this area contains various topics you can click to get more information including:
Professional development
Mission and values
PTO and work-life balance
Work from home
Parents and caregivers
Internships and graduate programs
COVID-19 response
Accessibility, Disability and Accommodation
As you can see, for those employees who decide to investigate your company on Indeed, they can glean a lot of information that is going to help them determine whether or not they are going to work for you.
Removing the most damaging reviews is a sure way of improving your presence on the jobs giant.
Can A Company Delete A Review On Indeed?
The short answer is "No."
Companies can only get negative reviews deleted from Indeed if the content of the review is a violation of Indeed's terms of service.
Indeed calls reviews "user content" and according to their terms of service, may remove employee reviews that are not in compliance with these general user content guidelines:
Unlawful -threatening, defamatory, or obscene
Discriminatory – sexual, ethnic, or race
Privacy – no proprietary, confidential information or intellectual property
Spam – advertisements, pyramid schemes, investment opportunities
Personal Identification – social security, passport or driver's license numbers
If you feel review content violates one or more of these guidelines, you can report it to Indeed for removal.
If Indeed will not remove the review or if the review does not violate Indeed's TOS, that's where we can help you.
You might also like: Delete Glassdoor Reviews
How To Delete Indeed Reviews?
We provide you with a full guarantee that we can remove poor reviews on Indeed.
Whether or not the review violates Indeed's guidelines doesn't matter to us.
Our service is complete, affordable and confidential.
Once the negative review(s) is/are removed, the employee who wrote it is not notified.
Instead, you'll see fewer 1-star and 2-star reviews on your profile and your overall rating will improve.
Sample Indeed Case Study
Let's take a look at a case study to see the before and after of deleting bad reviews on Indeed.
From the example above, we see that World Wind and Solar has 61 reviews and an overall employer rating of 2.8.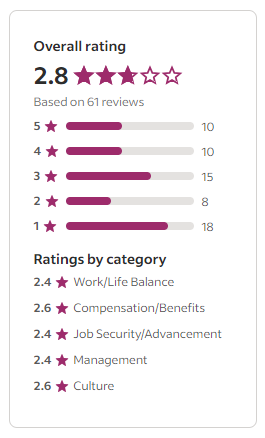 Eighteen of those reviews are 1-star and 8 more are 2-star.
If the company were to hire us and we successfully remove 50% of those 1-star and 2-star reviews, their rating would increase from 2.8 to 3.2.
While not a huge increase, they would at least be above average.
Then, the company could internally address some of the complaints to improve the quality of future reviews and slowly increase their rating.
For businesses with only a handful of 1-star reviews, the impact can be much more dramatic.
Conclusion
Regardless of what your overall employer rating is on Indeed right now, we can help you improve it be deleting some of the negative reviews that are holding your rating down.
We can remove about 50% of all bad reviews and the process takes a few weeks.
You only pay for the reviews we successfully take down.
Contact us for a quote and improve your online reputation on Indeed.