We have a proven, guaranteed method to delete bad Yelp reviews. This is a permanent solution.
Our service to remove reviews from Yelp is guaranteed – you pay only after our work is done and you are satisfied.
Inquire now and we'll get back to you with a quote ASAP.  Please be sure to include your exact Yelp business profile link on our contact form so we can properly quote you.
How We Delete Negative Yelp Reviews

If you perform a Google search for "How to delete a Yelp review?" or "Can a business owner remove a bad Yelp review?" you will find lots of opinions and advice from a lot of different people.
Some of the advice includes things like consulting with a lawyer to get a court order or asking the reviewer to go into their Yelp account to delete the review.
The former option will cost you thousands of dollars and unless you can prove defamation or a violation of Yelp's terms of service to get a court order, you end up wasting a lot of time. The latter option involves trying to "make nice" with the reviewer and hope they will find it in their heart to take down the bad review of your business.
Both options require time and risk and no guaranteed outcome.
Our solution for deleting Yelp reviews is guaranteed and puts you back in control.
You won't have to consult with attorneys or pay legal fees, nor will you have to deal with angry customers or disgruntled former employees who've posted negative reviews on your Yelp business page.
What we do is unique – instead of focusing on trying to wrangle through hoops to delete a single review, we delete your entire Yelp business page. We're the only people who do this and the results are guaranteed.
What this means is that no current or future bad reviews on Yelp can effect you because no one will ever find your page again.
If this sounds interesting, fill out our contact form to get a quote. We've helped plenty of businesses and can you help you, too.
How Much Can A Bad Yelp Rating Effect Your Business?
Michael Luca, a Harvard Business School faculty member, completed a study in 2011 that reveals a one-star increase in your Yelp rating leads to 5-9% increase in business revenue.
This study was limited to restaurants, but you can imagine and have probably felt the impact of negative Yelp reviews on your own business, regardless of what category you're in.
Imagine if you could eliminate your bad Yelp reviews by getting rid of your Yelp business page entirely. What would 5% more revenue look like to you? What about 10% or more if you have a really bad rating!
Consumers Trust Yelp
The fact is that many consumers blindly trust Yelp. Many of the same consumers who trust Yelp also contribute to their platform. Known as "Yelpers," these folks take great pride in writing lots of reviews of businesses in their area. It's almost as if they consider themselves to be food critics or professional reviewers.
Of course, Yelp itself goes to great lengths to assure consumers that they're reviews can be trusted. In viewing any Yelp business page you'll see their claim that businesses can't pay them to alter or remove reviews.


I've heard from hundreds of frustrated business owners who say pretty much the same thing: "It seems like most of our good reviews get filtered and the few bad ones show up on our page."
While many consumers trust Yelp, it appears to me that there are lots of business owners who don't.
How Yelp Directly Hurts Your Business
For local businesses, your brand name is everything. A good reputation can mean repeat business and referral business.
Now that consumers have the internet, it's much harder to keep control of your reputation. Yelp is a strong site and there are two ways it can hurt you.
#1 Way Yelp Can Hurt Your Business
Let's say someone has heard about you and they want to do a little research. Or maybe they're just looking for your phone number or address.
They turn to the internet and Google your business name. Since Yelp is such a strong site, they'll usually see your Yelp page ranking on page 1 – usually in the top 5 search results.
If your rating isn't so good, your Yelp listing can stand out like a sore thumb because Google automatically shows your Yelp star rating in it's search results.


This creates a situation where someone who was innocently trying to find your contact information found something to give them pause. Now, maybe they change their mind and never call you.
Further, the customer that was simply "checking out your reputation online" found exactly what they needed in order NOT to do business with you.
Our service removes your bad Yelp reviews by eliminating your page from search engine results.
#2 Way Yelp Can Hurt Your Business
The second way negative reviews on Yelp can hurt your business is through keyword search.
I performed a Google search for "pizza in los angeles ca" and immediately following a few local listings, this is what I saw.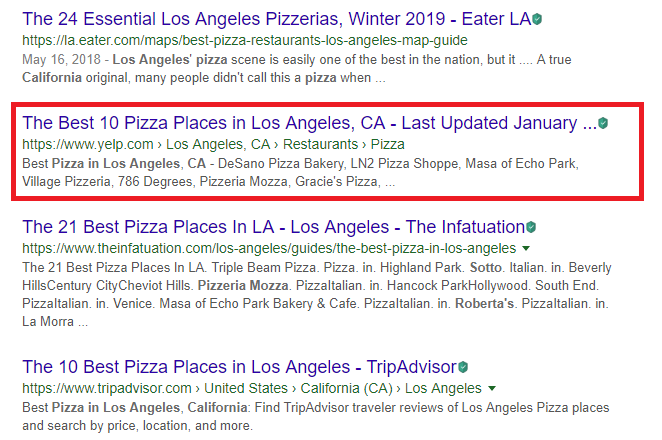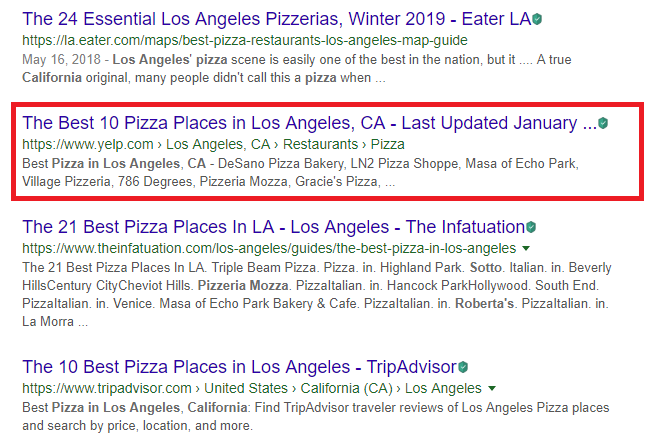 Of course, when a potential customer clicks on the Yelp listing, they're going to see a list of organic results. They're going to notice the star ratings and often make a decision based on that alone.
So if one or two 1-star reviews are on your Yelp page, it can drag your whole rating down, thus eliminating your business from ever being clicked on.
If you were deciding on a pizza place in your market and one had a 4.5 star rating and one had a 2.5 rating, which one would you choose? You probably wouldn't even the click the 2.5 star rated restaurant, you'd just let Yelp make the decision for you and call the higher rated one.
Unfortunately, measuring the impact on calls that never come due to Yelp is difficult to do. But you probably have a good idea if you look at your sales revenue and notice its flat or trending downward since the negative reviews popped up.
What Happens When Your Yelp Page Is Deleted?
When we delete your Yelp page (and with it all of your negative reviews) it will be like your Yelp listing has been surgically removed from search results.
When anyone uses any search engine to try to find you, all they will see is your usual search results – your website, your social media profiles and your Google Business page. These are the things you want them to see because for the most part, you have control over them.
Your Yelp business page will no longer appear and so your bad reviews will no longer hurt you.
Who Is This Yelp Review Removal Service For?
Any business who wants to have negative reviews deleted from Yelp is a good candidate for our solution.
This is about giving you back control over what people see when they Google you. We've shown how bad reviews can adversely effect your business and that effect can be long lasting.
We give you the power to eliminate Yelp, so you can get back to building your business and protecting your online reputation.
Who Is Not A Good Candidate For This Service?
Some business owners feel they get a lot of leads by being on Yelp. If you're one of them, you're probably not a good candidate for Yelp removal.
I'd recommend checking your Yelp business portal – check out how many phone calls Yelp says you're getting. Login to your biz.Yelp account, go to Activity and see how many phone calls it says your Yelp listing is generating. If you'e an advertiser, you can get more detailed data, including a listing of the phone numbers those calls came from.
I've personally placed Yelp ads for a few clients and heard from many others and Yelp ads don't really work. So, if Yelp advertising doesn't work, I find it hard to believe Yelp really moves the needle in terms of new business.
But you'll have to make your own decision and weigh whether or not you feel Yelp is helping you more than the bad reviews are hurting you.
"Delete Bad Yelp Review" Scams To Avoid
1) Cheap prices.
Anyone offering you a "too good to be true" price to suppress or delete your Yelp reviews is probably scamming you.
A few companies and law firms will attempt to help you remove individual reviews while leaving your Yelp page intact. Their services are not cheap. Be wary of anything that sounds too cheap, i.e., under $1,000.
2) Pay in advance deletion services.
This is where Online Reputation Management agencies get a bad name. There are firms (or individuals) who will tell you they can delete your bad Yelp reviews, but they really can't.
They will ask you for payment up front to guarantee their work – or they will ask for 50% up front and 50% when the job is done.
These are scams. You will not hear from these folks again after you pay them.
3) Lawyers charging fees without delivering results.
Nothing against lawyers, but why pay an attorney to "attempt" to remove a negative Yelp review on your behalf, with no guarantee of success?
If it doesn't work, you're out hundreds or thousands of dollars with nothing to show for it.
I'm not accusing lawyers of being scammers, but with our guaranteed Yelp removal service, you pay only after you see for yourself that it works.
Summary
I hope you've found this information for removing negative Yelp reviews helpful. We offer a guaranteed solution, so you never have to worry about unwanted Yelp reviews again.
Contact us via the quote form to get started.