We provide affordable online reputation management for business owners. If you'be been attacked online, are suffering from a negative news article, or need help with your online reviews about your business, contact us for a free consultation.
We can help you without breaking the bank or locking you into long term contracts.
Feel free to read more of this post as I'll share strategies you can use to protect yourself and case studies of specific business owners we've helped.
Overview
Most business owners face a dual challenge because you have two brands to protect:
Your personal name
Your business name
In fact, if your personal name is completely different than your business name, you're probably going to see two different sets of search results when you Google each of these terms.
Check out the comparison below between the Google search results for "Shawn Dunigan" and "ABC Electric," the company he owns.
(Please note, I pulled this example randomly, I don't know Shawn or his company, nor have we done any work together. It's merely for demonstration).
As you can see, the "Shawn Dunigan" listings on the left indicate Google thinks we are trying to find a person and thus the top 3 search results are LinkedIn and Facebook. Only the BBB and OreColNECA.org listings are related to the business itself.
The "ABC Electric" search results on the right are 100% about the business and includes the business website, internet business directories, the business's Facebook page and it's Google Business listing at the far right.
Not a single link is shared between the page 1 search results for the two terms.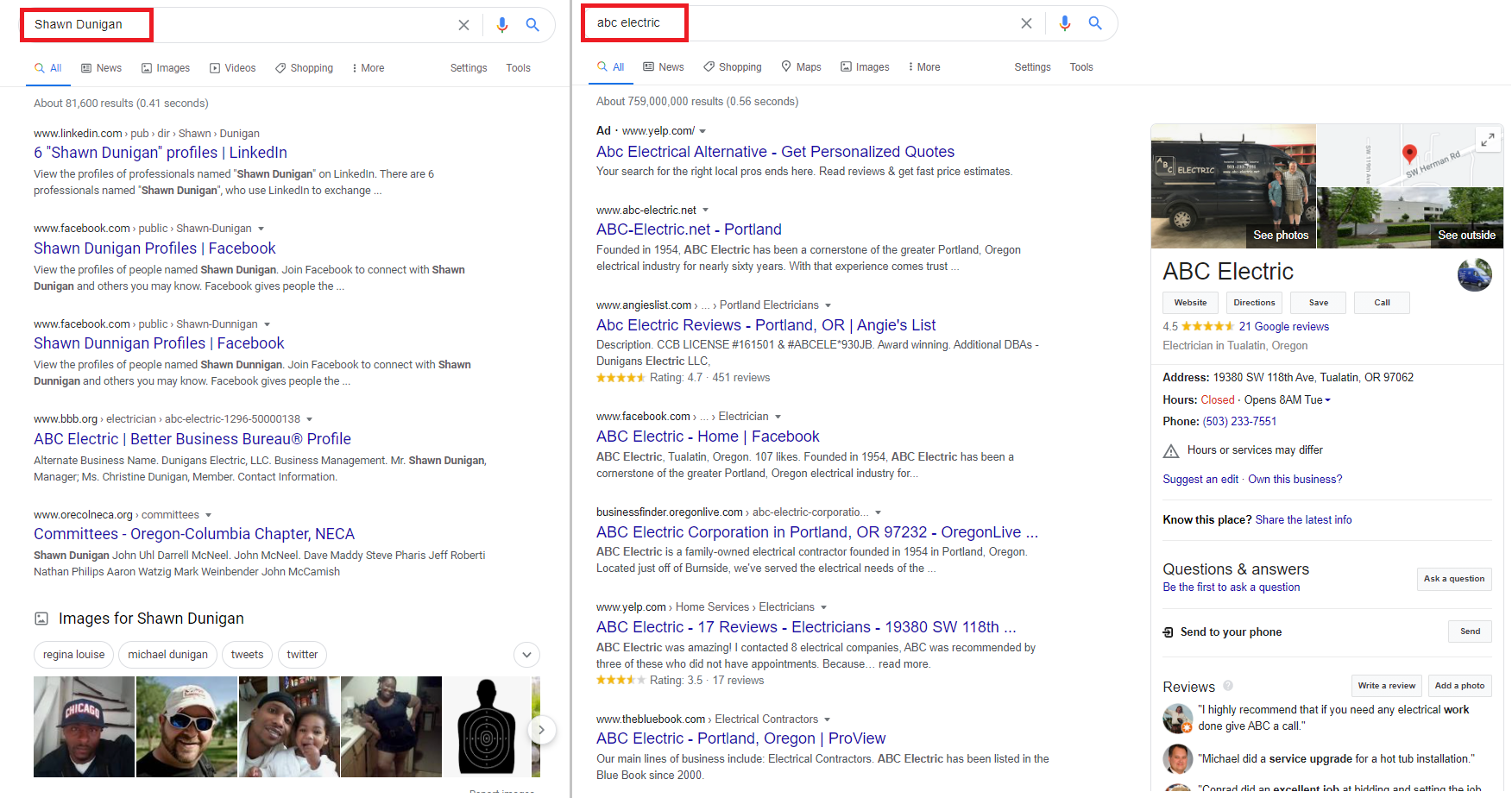 So, if you are a business owner, you'll want to regularly check both of your brands to see how the search results look.
You might have negative links that appear for your personal name, but not for your business name, and vice versa.
In this case, you'll only need one online reputation management campaign targeted fully at improving the look of that brand on the internet.
However, in a worst case scenario, a negative article will appear on page 1 of Google for BOTH your personal name AND your business name.
In this case, you'll need two campaigns, one tailored to your personal name and one tailored to your business name. We've got strategies that can overlap and help both brands, but in most cases if your personal name and business name are distinctly different like the example above, you'll need two separate campaigns.
Now, let's take a look at the different strategies that can make an impact on each of your brands.
You can employee these strategies yourself or hire us and we'll do all of the work for you!
You might also like: The "About Me" Strategy For Personal Online Reputation Management
Strategies To Protect Your Personal Name
When you Google most people, Google's algorithm will try to help you figure out which person you're trying to find. This is especially true if you have a name shared by other people.
You'll be served up search results that typically include:
Branded websites – such as yourname.com
Trusted social media sites – facebook, linkedin, instagram, twitter are most commonly seen
Interviews and/or news stories
Scraper sites – zoominfo, beenverified, peoplefinders and many others
Even a recent search for Kim Kardashian proves this out: 3 of the top 4 search results are social media sites, where she is very active, including Instagram, Twitter, and Facebook. Of course, there are plenty of news stories that appear on page 1 also.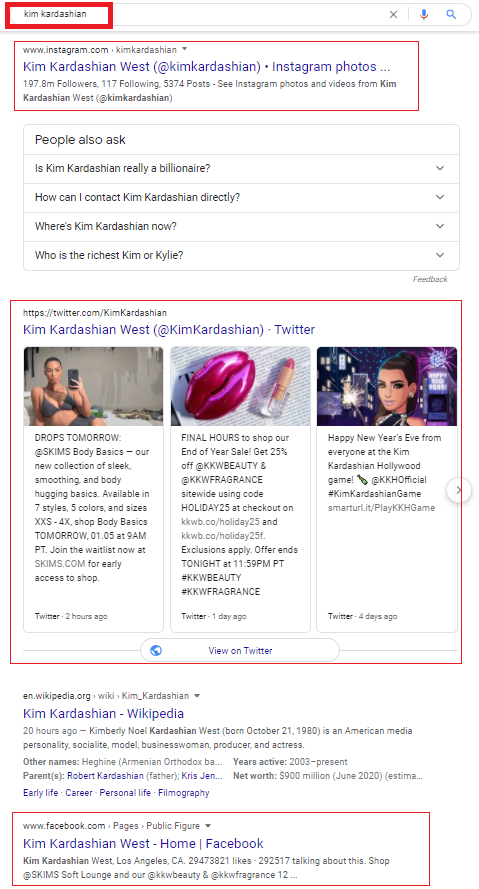 So, here are the top basic strategies for protecting your personal name. You can do these yourself or hire us to do it for you.
Buy yourname.com and launch a website all about you. This is the one of the most effective ways to outrank any negative content. I recommend a lengthy home page of at least 1,000 words, a contact page and perhaps a few blog posts. I'll elaborate more on this strategy at another time. Note: If you decide to do this, I recommend Bluehost. Their service is excellent and if you use my Bluehost affiliate link, I'll earn a commission that helps offset the time I spent writing this blog post for you 🙂
Claim major social media sites. As mentioned, LinkedIn, Facebook, Twitter and Instagram are some of the best ones. If you don't already have these, get them and then optimize them to rank well for your name. Other social media sites that still rank well are Pinterest, Quora, YouTube, Tumblr, and Medium. Add as much unique content to each platform and get engaged – follow people, make friends, etc. Once you've claimed and optimized each profile, activity is a good way to promote them in search results.
Interview sites can rank well in Google. You're probably familiar with magazine style sites such as Forbes, Entrepreneur, Inc, HuffPost and others which feature interviews with people. Even though these sites rank extremely well, getting an interview in these sites will cost you thousands of dollars. However, there are thousands of interview sites online that allow you to get published on their site for little or no charge. Go to Google and search for "submit interview" in quotes and you'll find lots of opportunities to be interviewed and published online. Not all sites will rank well, but a couple will pop for you and push down negative articles you want to suppress.
Alter ego strategy. This is a fairly common strategy that can work well particularly if you have an uncommon name or unique spelling of your name. It's also good for folks who prefer to not be plastered all over the internet. We basically create a new persona with your exact same name as if it's a real person. This allows us to create new websites, social media, images and interviews for a 2nd person with your exact name, but who isn't you. I used this strategy back in 2011 for a client who was in the military. I created multiple personalities with different images, blogs, and social media and even now in 2021, those "alter ego" assets are still ranking when I Google his name.
These are just a handful of the strategies we may use to push down bad links for your personal name in Google. Each situation is different and we do an analysis of your situation ahead of time to come up with the strategies we feel will give you the fastest results for the most affordable price.
Strategies To Protect Your Business Name
If you Google a business name, you're going to see a bunch of search results that are relevant to the business itself.
Here are some of the types of search results you'll see when you Google a business:
Business website – such as yourbusinessname.com
The business's prominent social media sites – facebook page and linkedin page usually rank best
Internet business directories – like Yelp, InsiderPages, YellowPages
Niche internet business directories – related to your industry
So, the strategies you can use to protect your business name and push unwanted links down in Google and Bing include:
Get sitelinks to appear for your business website – sitelinks are the links on your business's website that search engines feel are the most important ones. While Google's process for showing sitelinks is automated, the best practices for getting sitelinks to appear naturally is to include pages like I have for my other business website Mike Munter LLC below. Include an About page, Contact page, Blog, and Services/Products page. The advantage of getting sitelinks to appear beneath your business website is that they take up valuable real estate on page 1 and can help push negative SERPs to page 2.
Claim social media sites for your business – Facebook and LinkedIn allow you to create pages specific to your business, which are different from your personal profile. You can optimize the pages and use them to share content and engage with customers. This is a nice advantage because these two social media sites generally rank on page 1 of Google. If your business uses other major social media platforms (Twitter, Instagram, Pinterest, and YouTube are heavy hitters), be sure to claim, optimize and be active on those, too. Crunchbase and Medium also rank well.
Claim and optimize your business in internet business directories – if you Google practically any business, you're going to see things like Yelp, BBB, and others. You see these web directories appear because they hold such domain authority and therefore rank well. Google My Business (a.k.a. Google Business page) is a must for you to claim. Yellow Pages, Chambers of Commerce, MerchantCircle, SuperPages, Foursquare and HotFrog are worth your time as they might surprise you by popping onto page 1, helping to push down the bad stuff. And they're free.
Claim and optimize niche internet business directories – contractors/trades usually see things like Angie's List and HomeAdvisor. Dentists, physicians and other medical professionals will want to claim and optimize Healthgrades, Vitals, Zocdoc, and WebMD, and others. Lawyers can participate for free in niche directories like Avvo, SuperLawyers, FindLaw, Martindale and others. A good way to find niche directories is search for your business and go 5 pages deep. Then search for a few of your competitors and look at the first 5 pages of results. Make sure you're listed in every niche directory you see in the first 5 pages. Chances are good that 1 or 2 of these will move up to page one and bump any negative stuff down a bit.
Get listed on employer feedback sites. Glassdoor and Indeed are two of the best known employer sites and are very strong. There's a good chance at least one of them will appear on page one for you.
This is just a sampling of some easy strategies you can perform yourself to help protect your business's reputation on the web.
Depending on your situation, we'll use the tactics above and also include more advanced strategies such as press releases and scholarship programs to help put more good stuff on page one under your control, pushing down the unwanted articles.
We're happy to offer a free consultation to review your needs and handle all of the work for you, so you can focus on building your business! Our online reputation management prices are among the lowest in the industry, while still providing great results, as you can see in the case study below.
Case Study
Problem: An individual who owns his own construction company came to us because he wanted to delete negative news articles that had been published online in his local newspaper. His personal name was different from his business name, but since he was a builder, the branding of his name online is extremely important to him as potential clients will Google him. The two unwanted stories were appearing #1 and #2 when he Googled his name.
Results So Far: In 3 months, we've got the news articles pushed down to #6 and #7. We've got two press releases, a feature interview, Crunchbase and LinkedIn that are holding down the first five positions. The client is happy with our results and we continue to work on burying the stories so he doesn't have to worry about them any longer.
Cost: Client is paying $249 per month.
We'll add more business owner case studies as they become available. If you contact us, we'll recommend a program that fits your needs and give you a realistic idea of what results you can expect.
Conclusion
Whether people are Googling your business name OR your personal name, how you appear on Google, Bing and other search engines is critical to maintaining your business reputation.
Especially if you're a local business owner, one bad article (true or not) can hurt your credibility and dramatically impact your revenue if people find it when they Google your business or your name.